Ride and handling
Driving down an average, reasonably well-surfaced B-road, the Up GTI feels like a far more sophisticated car than its £15k price tag would suggest. It rides well, as if it's riding on more rubber than the sidewall of the 195/40 R17 tyres actually gives you.
The body's low mass is kept well controlled most of the time, too. Roll is minimal, but the more committed you are the more it feels as though the inside wheels are going to come off the ground, rather than the chassis allow the body to roll, thanks to, what feels like, a high centre of gravity.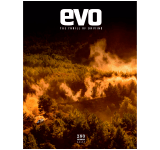 Subscribe to evo magazine
Subscribe today to have every issue of evo delivered straight to you. You'll SAVE 39% on the shop price, and get evo for its original cover price for a whole year!
As the road gets rough the suspension struggles to keep wheels under total control and the tyres in constant contact with the road. This eats away at otherwise very good traction.
Guide the GTI through a collection of challenging bends and it's clear it doesn't subscribe to the template dictated by many of our favourite hot hatches. There isn't super fast turn-in, hyper agility and limitless adjustability. Instead, the steering feels slow and the front tyres reluctant to bite; braking late and deep into a corner does little to agitate the car or amplify is agility. Even though it doesn't snap into a bend, the Up usually finds its way to the inside of a corner. Once at the apex, and both axles start to take equal load, it tenaciously holds its line. Experiencing such grip encourages you to fight the less than enthusiastic corner entry and enter the next bend at a greater rate. With a relatively high apex speed, for a 113bhp car that is, you then don't have to rely on the engine and huge traction to pull you out of a corner. Still, the car's XDS differential – a pseudo limited-slip differential that uses the brakes to nibble away at the inside front wheel's progress to force drive to the outer wheel – really helps the Up continue on the trajectory you wish. If the road is smooth, it's a competent and grown-up experience. If it's bumpy, however, the poor wheel control hampers the car's ability somewhat, and you have to reduce your well-earned speed. That said, you have to be really pressing on for this discombobulation to be an issue.
Controversially, for purists anyway, VW doesn't allow you to disable the traction or stability control. In reality, as the chassis doesn't allow much rotation or any sideways movement, you rarely feel it interrupting.
But just because the Up isn't the last word in adjustability or on-the-edge-of-grip excitement doesn't mean there isn't ample fun to be had. Its diminutive proportions mean that you have plenty of room to really choose your line, elongating every corner to best maintain speed. You have to be extremely aware of the road ahead, too, so you're prepared for every incline properly, swiftly changing gear and being deft with the pedals. You also need to be aware of any rough, traction-sapping areas of tarmac to try and avoid them. It's certainly demanding, but ultimately very satisfying.