Volvo V60 Polestar trades inline-six for 362bhp four-pot turbo
Polestar's latest hot Volvo trades six cylinders for four, with better performance and economy
Volvo's new V60 Polestar doesn't look much different to the car it replaces, but significant drivetrain changes make it both faster and more efficient than its identically-styled predecessor.
The big news can be found under the bonnet, where the old and rather tuneful inline-six has made way for one of Volvo's new generation of turbocharged four-cylinder units.
A variant of the firm's 2-litre 'Drive-E' unit, the four-pot is twin charged (using both turbocharging and supercharging) and features a larger turbo, new conrods, new camshafts, a high-capacity fuel pump and a larger air intake, compared to the T6 unit on which it's based.
The results are 362bhp and 347lb ft of torque – 17 horses more than the car it replaces, but a little less torque than the big six's 369lb ft. Despite the torque deficit, the 4.8-second 0-62mph time is two tenths quicker than before, thanks in part to a Polestar-fettled BorgWarner all-wheel drive system (with greater bias towards the rear wheels) and the latest eight-speed Geartronic auto – the old car had a six-speed unit.
'All changes made to the car are about improving driveability and efficiency. The base of the new engine carries motorsport technology, with solutions such as the combination of turbo and supercharger, lightweight materials and more,' explains Henrik Fries, vice president of R&D at Polestar.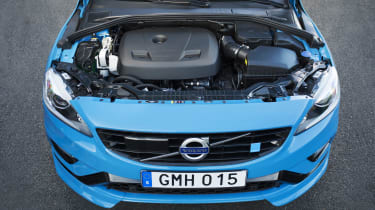 The engine downsizing has seen the old car's prodigous thirst (27.7mpg was the official figure, but evo typically saw numbers in the teens to low twenties) reduced, with a 34.9mpg official figure.
The other benefit is weight: While the old inline-six was aurally appealing, it was a big weight to hang over the front axle. The Drive-E engine cuts 24 kilos from that figure, and the new Polestar is 20kg lighter altogether than its predecessor (which should drop the kerb weight to 1739kg).
Changes to the electronically-assisted power steering should improve feel – something the current car lacks – while the Polestar's serious braking hardware has become even more serious with 371mm front discs. Those hide behind a new design of 20-inch alloy wheel.
The rest of the Polestar is much as before – neat styling, an aesthetically-aging but high-quality and ultra-comfortable cabin, and the option of retina-searing Rebel Blue paintwork.
The new car is available to order now, with UK deliveries expected in the fourth quarter. There should be more cars available too, with production expanding from 750 units to between 1250-1500 cars.