If you want to give your car's paint work an added layer of protection but you don't have the time or energy for a standard sealant - then consider investing in some wash wax. After washing your car, you would need to wait for it to dry before applying conventional products. But with a wash wax spray, you can do it while the car is drying.
Wash wax sprays can perform just as well as many spray or liquid waxes - but, as with anything, some are better than others. So we put a selection of wash wax sprays to the test, and ranked them accordingly.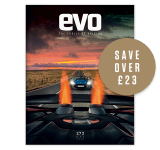 Subscribe to evo magazine
Subscribe today to have every issue of evo delivered straight to you. You'll SAVE 39% on the shop price, and get evo for its original cover price for a whole year!
The test
Wash waxes will save you time - but that doesn't mean there's no effort involved in applying them. So you want to make sure all that elbow grease pays off with a layer of protection that lasts. In our test, we applied each product to a section of car bonnet and we monitored how water beaded across it over four wet weeks and three dry weeks. Also, we factored-in the cost of each of them, along with ease of use and any extra items that were included, such as cloths.
The verdict
The top spot was taken by a newcomer on the list: Autobrite. Its impressive formula managed to knock the previous winner Turtle Wax out of first place. The latter performed very well in the dry, but less so in the wet. Coming in third position was Dodo Juice's Future Armour.
1. Autobrite Direct Supersonic! Sp-rin-ts
2. Turtle Wax Wax It Wet
3. Dodo Juice Future Armour
Reviews
Autobrite Direct Supersonic! Sp-rin-ts
Price: £18 
Size: 1,000ml 
Rating: 5/5
Supersonic! Is made up of an SiO2 (silicon dioxide) formula, which helps boost the gloss on your paintwork - and helps extend durability too. The gloss isn't necessarily something you want to achieve, but that longer lifespan certainly will be. One thing that clinched its victory over the Turtle Wax was how much longer it endured in wet weather and across hundreds of miles of motorway. After four weeks, we still saw lots of quick beading, so we're willing to take Autobrite Direct's claims that it lasts for three months at face value.
It's not perfect, however. When it sits for too long on the car's surface, it can leave marks that are only removable with polishing. It's also costlier by litre than all others on this list. But the fantastic performance and smoothness of use assured its victory in our test.
Turtle Wax Wet & Dry Spray Wax
Price: Around £7
Size: 500ml
Rating: 4.5/5
Turtle Wax's Wax It Wet is a pioneer in the field: it was one of the first waxes that leave protection as you dry a car, rather than after. We think the formula has probably been given a few tweaks since its release, and not necessarily good ones - while it did well in our 2017 test, we just didn't see the same level of performance this time.
It certainly produced beading in our tests, but not nearly to the same extent as with Autobrite's wax. This, we put down to a change in weather: always an issue in Britain whatever the season. It's applied just like the Supersonic! - you spray, you spread, and it dries to a haze that quickly vanishes. It might only come in second place, but it's certainly our top choice if you're buying on a budget.
Dodo Juice Future Armour
Price: Around £10
Size: 500ml
Rating: 4/5
Dodo Juice, never one to be accused of modesty, dubs this a '31st-century nano sealant'. We can't vouch for how well-respected it will be by drivers a millennium from now, but it was definitely a winner when applied to the wet panels of a car. All you have to do is spray, level out the coating, and let it dry to a protective surface.
Dodo Juice states that the finish will endure for a good four months. It was definitely still working at the close of our three-week test. Ultimately, it was the difference in price that meant this got the bronze medal and Turtle Wax came in second. 
Armor All Speed Wax
Price: Around £6.50
Size: 500ml
Rating: 4/5
Speed Wax's products have always done well in this test, but narrowly missed out on entering the top three this time. We found it was slower in shifting water than the those three winners, but not by much. Like other wash waxes, it functions chiefly as a detailer, but can still be applied to wet bodywork, as well as glass, which impressed us.
It also lived up to its claims to 'restore water beading': the coating remained after spraying and wiping a dry bonnet section even after three weeks.
Angelwax Blue Rinse
Price: Around £9
Size: 1,000ml
Rating: 4/5
We conducted this test a little differently to previous years - it was shorter, and it happened to be done in milder weather. It meant our results were far more of a photo finish than they've ever been before, which is why price became a greater deciding factor. That worked out well for Angelwax, whose litre of Blue Rinse costs the same price that many of its rivals charge for 500ml.
First and foremost a rinse aid, it's designed to speed up the drying process and to add a sparkle to your bodywork. We were pleased to find its hydrophobic coating was still working after three weeks, although not to the same degree as the three winners.
Autoglym Rapid Aqua Wax
Price: Around £15
Size: 500ml
Rating: 4/5
Aqua Wax has actually come out in first place in previous tests, but sadly it no longer has the same uniqueness of quality that it did. We're not quite sure what's changed in the Rapid version: it still comes with two high-quality microfibre cloths (one to wipe and dry, the other to buff).
It might have suffered in the milder weather, as the beading it produced across the test panel didn't match up to other products on test. It was also hobbled by its steep price.
Meguiar's Ultimate Quik Wax
Price: Around £15
Size: 450ml
Rating: 4/5
Much like the Autoglym, this former winner and runner-up didn't perform so well under the new conditions of our test. Yes, it still shifted water, but also took longer to clear its section of the test bonnet than the higher performers in this list.
Meguiar's wash wax remains a high-calibre product, as evident in its straightforward spray-and-wipe application, which leaves a reliable hydrophobic coating. But - again, like the Autoglym - its price was an issue.
Mothers California Gold Spray Wax
Price: Around £13
Size: 710ml
Rating: 3/5
As the name suggests, this is a US import, and one that can be used both on its own and on top of existing wax finishes. It certainly delivered a water-repellant finish, which lasted until the end of the test although it produced less beading than other products in the test.
The larger volume bottle went some way to justifying the price, but ultimately, the California Gold came out as too costly in comparison to far better wash waxes.
Bilt Hamber auto-qd
Price: Around £15
Size: 500ml
Rating: 3/5
You can't fault the versatility of this wash wax - the auto-qd can be used as a waterless wash and a (diluted) rinse aid, and can also be used between waxing. Bilt Hamber makes a point of saying that this product works well over its anti-corrosion auto-balm wax.
We found that as a wash wax, the auto-qd managed to repel water, but without the same levels of beading that we've seen with other Bilt Hamber waxes. Plus, it was one of the most expensive products that we tested.