Between May and August last year, London's new Ultra Low Emission Zone, or ULEZ, saw 224,000 brown-enveloped fines hitting drivers' doormats and netting Transport for London (TfL) nearly £11million in fine income. TfL's seen just under £31million roll in in £12.50-per-vehicle ULEZ tax payments too, a fair start to trousering a potential combined tax and fine income of £120million a year.
Although according to DEFRA (the Department for Environment, Food & Rural Affairs) the air in London is the cleanest it's been since records began, the ULEZ is designed to clean it up still further by targeting nitrogen oxides, or NOx, from road transport with a £12.50 daily tax that's applicable to many older cars.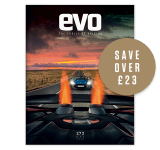 Subscribe to evo magazine
Subscribe today to have every issue of evo delivered straight to you. You'll SAVE 39% on the shop price, and get evo for its original cover price for a whole year!
But surely this is a good thing if Londoners get cleaner air. How can the owners of these cars moan about a £12.50 daily tax for driving? As is so often the case, the reality and the headlines are rather different. Even TfL admits that private cars – let alone those older ones being targeted – aren't the main pollution problem: 'Traffic in the ULEZ area has a greater proportion of certain vehicle types, such as taxis, and proportionally fewer private cars than outer London.'
> Cat A, B, S, and N cars: insurance write-off categories explained
In fact, petrol cars of all types and all ages account for just six per cent of Central London's NOx air pollution. Older cars will emit a fraction of that. Some way ahead is domestic gas heating and diesel cars, both at 12 per cent, TfL's own buses at ten per cent and non-road mobile machinery (cement mixers, to you and me) at seven per cent.
The ULEZ net lets through petrol vehicles that meet the Euro 4 emissions standard (Euro 6 for diesels) and also – for now at least – pre-1980 classic vehicles. But between these lies 26 years' worth of cars – a sort of automotive no man's land – that are too young to fit the pre-1980 historic tax class, but too old to comply with Euro 4 legislation.
What is and isn't Euro 4 compliant isn't as simple as it looks, either. The first Euro 4 cars started hitting the streets from January 2006, but there are plenty of pre-Euro 4 cars that meet the Euro 4 emissions standards. For example, you'll find plenty of earlier E-class Mercedes that are OK, Lexus LS430s (but not the earlier LS400), petrol Audi A2s, late model Toyota Celicas – you get the idea.
It's a bit of a lottery, although you can check online at the TfL website. But, because the charge is solely NOx emissions based, you'll also find numerous '80s, '90s and early noughties upcoming classics that don't make the cut. Cars such as the Mk2 Golf GTI, the W124 Mercedes 500E, any proper Audi Quattro, any E30 or E36 BMW (including the M3), the Mercedes 190 Cosworth, Porsche 928, Honda NSX, BMW 635CSi, Renault Clio Williams – again, you get the idea. TfL's automatic number plate recognition cameras and databases see no difference between your immaculately maintained but non-compliant Mercedes 2.3 Cosworth and a knackered, smoke-belching 1992 Nissan Micra. Both get taxed £12.50 (or fined £160) per day just the same.
Of course, if you run a post-'79 classic and live outside London, you might believe you can sit back, flip on to the classifieds and not worry. But ULEZ-style restrictions are springing up around the UK and the rest of Europe so quickly that the urbanaccessregulations.eu website, the online bible for Europe's ultra-low emission zones, can barely keep up. 'Search to find out if you can drive into your cities. Check now and avoid a traffic fine!' it proclaims, perhaps clarifying one of the reasons politicians, always keen to find new sources of income, seem so fond of low emission zones.
There are restrictions planned for Aberdeen, Bath, Birmingham, Brighton, Bristol, Dundee, Edinburgh, Glasgow, Leeds, Leicester, London, Norwich, Nottingham and Oxford, with plenty more to follow. Cross the Channel and you can add Lyon, Lille, Clermont, Marseilles, Nice, Rouen, and the list goes on for pages, including a slew of cities in Italy, Germany, Ireland, Holland, Belgium, Spain, Bulgaria, Denmark, Finland...
It's unlikely to stop there. It's possible that the Euro 4 cut-off won't last much longer, drawing even more cars into the net – Stockholm has just put in place a Euro 6 low emission zone. Islington and Hackney have imposed a five-street zone that even bans early hybrids. And environmental groups are already gathering their ammunition against electric cars on the basis of road dust and particulate emissions from tyres and brake pads. At the opposite end, those older, pre-'80s classics are under threat, too: Oxford City Council is proposing not a low emission zone, but a zero emission zone, and wants to force classic car owners to apply for permits to enter the city.
> V5C log book rules: what to do when you buy or sell a car
The implications of ULEZ schemes extend far beyond simply restricting where and how often affected cars are driven – at their most serious they could threaten the very existence of some significant cars. The UK government's current system that grants tax and MOT exemption for cars as they reach 40 years old, on a rolling basis, has seen a steady stream of newly fully-fledged classics reaching the market each year, and the cars from the '80s and onwards that are being targeted by ULEZ are the future of that scene. But if there's no market – or a much reduced market – for buying, selling, driving and enjoying modern classics, more will end up in the crusher, leaving far fewer to make it to the safety of exempted classic status. After all, who's going to want a car they can't drive anywhere without being heavily taxed?
Clearly, the repercussions for people who earn their livelihood from classic cars – restorers, dealers, mechanics, etc – are huge. TfL says it hasn't considered the impact on the £5.5billion classic car industry, though. A spokesman said: 'We've done an equality impact study, but I don't think we'll have gone to that level or niche areas like modern classic cars. At the moment it's all about delivering ULEZ and expanding it in 2021.'
It's too early to see a direct knock-on to modern classic values, but there's certainly evidence that some buyers are backing away from the risk of young-timers being taxed off the roads. Jonathan Dawson, of Lincolnshire's Horsepower Hangar, said: 'We've already lost a sale on our Porsche 928 GTS thanks to the ULEZ. It's really messing up the market.'
And among all of this, the recommended alternative to leaving your modern classic in the garage? When you click the 'Alternative transport options' link on urbanaccessregulations.eu, the answer is 'public transport'. Hardly likely to fill anyone with the same joy as grabbing the keys to an early 1980s 911…
ULEZ to snare even more from October 2021
From 25 October 2021, ULEZ will expand to cover anywhere inside the North and South Circular roads, including boroughs as far out as Bexley, Hillingdon, Bromley, Croydon, Harrow, Kingston and Richmond – primarily residential areas where plenty of people own and run modern classics. The consultation period for that legislation shut in February 2018, well before the first ULEZ had even been imposed.