There's nothing quite like driving a convertible car on a sunny day but there's also no escaping the fact that soft top canopies are higher maintenance that a traditional fixed metal roof. The hoods of cabrios are susceptible to acid rain, falling detritus, tree sap, UV rays, birdlime and all sorts of outdoor hazards, which means that cleaning and protecting the fabric is typically needed at least twice a year.
When the fabric of a soft is cleaned, it needs to be done as a whole: you don't want unsightly patches of over-cleaned material spoiling the look of your car. You'll also need to cover your hands and eyes while doing the job, as many soft top cleaners contain caustic chemicals and polymers. We always suggest that you try the product on a patch of fabric that's out of sight, just to be certain there's no adverse reaction. You should also never fold the roof when it's wet, or drive the car in the rain if the protection solution hasn't dried.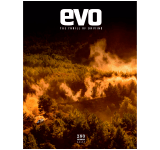 Subscribe to evo magazine
Subscribe today to have every issue of evo delivered straight to you. You'll SAVE 39% on the shop price, and get evo for its original cover price for a whole year!
> Best wheel cleaners 2019 - how to clean and protect your car wheels
How we tested them
We got hold of a particularly aged and dirty convertible hood, and removed all loose dirt. Then, we applied all the cleaners and protection treatments on test as described  in each product's instructions. Then, we left the hood for seven weeks of exposure to British weather: rain, frost, wind, dust, dirt and (just occasionally) sun.
It was spring when we tested, which meant that there was lots of pollen in the air, and it formed a sticky, ink-like liquid in the rain. We awarded marks based around overall efficiency and levels of water beading after a final rinse, which we balanced against its price-per-litre cost.
Verdict
Ultimately, it was a very close call: all of the top 3 were in contention  for the top spot. In the end it came down to price: being slightly cheaper, the Gtechniq products won out, with Autoglym coming in second place and BAS's kit picking up the bronze medal.
1. Gtechniq W2 Multi Purpose Cleaner Concentrate & I1 Smart Fabric V2
2. Autoglym Convertible Soft Top Clean & Protect Kit
3. BAS Hood Cleaning Kit
Reviews
Gtechniq W2 Multi Purpose Cleaner Concentrate & I1 Smart Fabric V2
Price: Around £4 + £12 (100ml/250ml)
Price per litre combined: Around £21
Rating: 5
Curiously, Gtechniq's product isn't specifically for soft top hoods - it's for stains on almost any material. That price tag might look a bit steep, except this is a concentrate, so a little goes a long way (five parts to one is what's recommended, though we found it was better when diluted further). It did an extremely good job, removing the bird lime and tree sap that stained our hood. Even better, the protector offered some of the strongest beading at the end of the test,  and was enough to ensure that this product took our test's top spot.
Buy the cleaner from Amazon here and protector from Amazon here
Autoglym Convertible Soft Top Clean & Protect Kit
Price: Around £25
Price per litre combined: Around £25
Rating: 4.5
Autoglym's two-piece cleaner and protector  kit has earned a good reputation - and when we put it to the test, it was clear that this is well deserved. The cleaner and sponge made quick work of the hood: it was easy to apply with the spray pack and took very little effort. After seven weeks of exposure, the area of the hood cleaned with this product was arguably the best. The only thing that made it lose out on first place to the Gtechniq product is the higher price.
BAS Hood Cleaning Kit
Price: Around £14
Price per litre combined: Around £29
Rating: 4.5
It might come in fairly small 250ml trigger packs, but the BAS Hood cleaner and protector work out at a similar price to other products on a per-litre basis. A sponge is included in the package  and its roughness makes it well-suited to working the cleaner into stubborn stained areas. We were impressed by its cleaning power, and we also found the hood protector was easy to apply. It resulted in a level of success on a par with the AutoGlym and Gtechniq cleaners. Ultimately, the price pushed this into third place.
Buy now from BAS International
Renovo Fabric Soft Top Cleaner & Ultra Proofer
Price: Around £13 + £13
Price per litre combined: Around £27
Rating: 4.0
Renovo is a well-known, long-established specialist in the care of convertible roofstops - so it should come as little surprise that itstheir cleaning product totally delivers. The product's liquid needs to be decanted into a separate container, which then can be applied to the damp hood with a clean paintbrush. At this stage, the dirt simply vanished.
Then, the Ultra Proofer was applied in a similarsimliar way to the other products on test, and was then left to dry in the shade where it could 'cure' into a waterproof barrier. After seven weeks, the beading on that barrier didn't quite compare to that of the three winning products, but nevertheless, we were impressed.
Buy the Soft Top Cleaner from Amazon here and the Ultra Proofer from Amazon here
Sonax Soft Top & Fabric Waterproofer
Price: Around £18
Price per litre: Around £60
Rating: 3.5
As Sonax doesn't have a cleaner in its range, we just tested its waterproofer, which comes in aerosol form. The mousse-like foam it produces turned out to be best applied in small amounts. Included is a double-sided sponge, one side soft, one side hard. We discovered the foam was easy to work into the weave warp and weft of the hood and its seams. The end result was incredibly good - indeed, it was the best protection treatment proofer on test, producing superb beading. But since you'll need to buy a cleaner separately, the price will add up a little.
Turtle Wax Soft Top Cleaner & Conditioner Kit
Price: £16
Price per litre combined: £16
Rating: 3.0
The Turtle Wax's terrific price is what grabbed our attention. Much like Autoglym, the product contains two 500ml trigger packs, though here there's no sponge included. We found applying the product was straightforward, and it cleaned well with a paintbrush. One useful aspect to this product is that it can be applied to both damp and dry hoods, and after three weeks, beading was strong. But after seven, it wasn't quite so good. TBut that low price tag certainly makes it a strong proposition, especially for cabrios that are rarely used and don't need lots of maintenance.
Meguiar's Convertible Top Cleaner & Convertible & Cabriolet Weatherproofer
Price: Around £13/£13
Price per litre combined: Around £32
Rating: 3.0
Meguiar's cleaning and weatherproofingproofing products are sold separately. The cleaner comes in trigger pack form; the weatherprooferproofer in aerosol form. Having the fold-out instructions stuck to the pack was somewhat irksome - but theyit did rightly highlight the dangers of flammable heptane. After four weeks, we found the beading was faultless, but at the end of the full seven weeks, it had deteriorateddetiorated slightly. It was this, and that steep price, that earned the Meguiars product this the middling rating it got.
Buy the Top Cleaner from Amazon here and Convertible & Cabroilet Waterproofer from Amazon here
Nanolex Convertible Top Sealant NXCT01
Price: £21
Price per litre: £84
Rating: 2.5
This product from Nanolex only contains a proofer, so you'll have to purchase a cleaner separately. It features C6 fluorocarbon polymers, and comes in a 250ml pump-action bottle. We applied it to a cleaned section of hood (with nitrile gloves, as the instructions recommend), and we found that after the final rinse the beading was decent enough. But at an eye-watering £84 - over five times more than the cheapest product on this list - this is more likely to sting your pockets than your hands.