Brands Hatch Track Days - Circuit history
Up until the mid-eighties Brands was a GP venue and while it may have lost the world's premier motorsport series it still hosts numerous international races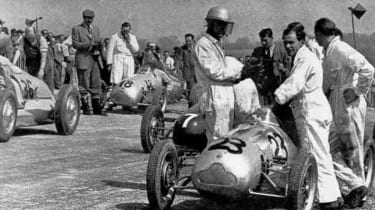 Situated beside the A20 near Dartford in Kent, motor sport activity at Brands Hatch dates back to 1926 when a group of cyclists stopped to investigate a mushroom field and decided it would be a good place to hold competitive events. The farmer was who owned the land was duly persuaded and grass track motorcycle events took place in the natural amphitheatre – so named because Hatch means Wattle Gate in ancient English.
In 1947, the first ever televised motorcycle event in the UK was staged at Brands but in 1950 a kidney shaped mile of tarmac was laid and on April 16th a race was staged for 500cc single seaters – running in an anticlockwise direction.  
In 1954, the circuit direction changed to clockwise and the top hat section up to Druids was added to make the current 1.2262 mile Indy circuit, then in 1960 the Grand Prix track was created using most of the Indy – or Club circuit as it was then – to make a total length of 2.6228 miles. Jack Brabham, driving a Cooper T53-Climax won the first ever race on the new 2.65 mile track with Graham Hill in a BRM P48 some 4.4 sec behind in second place.  
In 1964 the star attraction was the circuit's first Formula 1 World Championship event won by Jim Clark's Lotus. Brands Hatch then shared the hosting of the British GP with Silverstone until 1986 - while also hosting the Grand Prix of Europe in 1983 and 1985. In his first season with Williams-Honda, Nigel Mansell scored the first of his 31 Grand Prix victories at Brands Hatch in 1985, and returned the following year to win the last Grand Prix to be held at the track.
World Championship action returned to Brands Hatch in 1993, when the circuit held the Irish round of the World Superbike Championship and since 1995 Brands Hatch has hosted the European round of the World Superbikes.