Silverstone's Track Days - Silverstone's History
An active airfield during the war, Silverstone's history begins in March 1943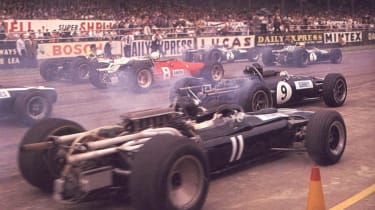 Silverstone's history begins in March 1943 when wartime operations began on the traditional three crossed runways needed to point heavy bombers into the prevailing wind. It served as an active airfield throughout the hostilities and by 1947 was still home to a squadron of Wellington bombers. A year later, the Royal Automobile Club was looking for a site to run a British Grand Prix – the first since 1927. There were no suitable permanent ones and no facility to close roads as there was in Ireland or the Isle of Man and in the aftermath of war, there was no money to build a new facility. The huge numbers of concrete runways that dotted the country soon became the obvious option and Silverstone became one of two airfields under consideration.
Half of it lies in Northamptonshire, the rest in Buckinghamshire, and having emerged as favourite, on October 2nd 1948 a 3.7 mile circuit marked out with oil drums and straw bales was home to the first post-war Grand Prix, won by Italian hero Luigi Villoresi in a Maserati. Another year later the circuit had shortened to three miles and more closely resembled its current shape when it hosted the official British Grand Prix in which victory again went to a Maserati, driven this time by Baron Tulo de Graffenried. The first International Trophy which also catered for Grand Prix cars took place at Silverstone in that same year but in 1950 the track hosted the first event in the World Championship for Drivers which still exists today. The chicane at Club had gone which further reduced the length to 2.9 miles and Dr Giuseppe Farina's Alfa 158 won on a circuit still defined by straw bales but whose shape would now stay unchanged for nearly 25 years.
The changes began at Woodcote. A chicane was installed after the 1973 British Grand Prix pile up and then in 1987 when Formula One lap averages had risen to 160mph and more, the original curve was reinstated with a sharp right/left leading to it. At that time, the Club or National circuit which first appeared in the mid-1950s was still a link via one of the old runways which ran between Becketts and Woodcote, but in 1991 a big redesign took place which introduced some elevation to the airfield's flat surface as well as making changes to Maggots and Becketts, a tighter Stowe and Club and a tight left/right in place of Abbey's flat out sweep. In addition there were completely new corners which turned through the infield at the excavation for Bridge, and at Priory, Brooklands and Luffield, the sequence  which then led to Woodcote. Copse was subsequently moved further away from the barriers in 1994 and at the same time, Priory and Luffield were eased. The 2.2 mile International Circuit appeared in 1997 when Becketts turned right through Ireland and across to join a resurfaced version of the old 1980s Abbey. The National circuit still used the linking runway from Becketts but now joined at Brooklands via a slight extension to the radius of the corner.
That layout is still current today and makes three Silverstones in regular use for racing – or six in total if you include the South Circuit which is used for testing, the Stowe Circuit which is home to the race school and the International Historic Circuit which has been used for Historic Festivals since the late 1990s and features the original Abbey and a shallower version of Club. The Grand Prix circuit is a long lap with some technical challenges and some grand corners. It may not be so out and out exciting as it once was, but it is certainly more interesting.