New Alfa Romeo Spider 2015: price, news and specs
The new Alfa Romeo Spider will share parts with the next Mazda MX-5. Details here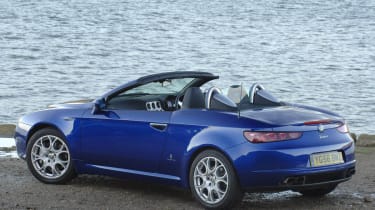 In the week Alfa launches its new 4C sports car, what of the next Alfa Romeo Spider? There hasn't been a car wearing one of open-top motoring's most evocative sets of badges since the front-drive, Brera-based Spider was took off sale in 2010. It was a dynamic disappointment, and with production lasting just four years, seemingly a commercial one, too.
The next Alfa Spider, due in 2015, should be an entirely different prospect. The Italian company has taken the bold step to partner up for its development – and the good news is the Spider will be spun off the next Mazda MX-5, a car which follows in a line of dynamically exciting roadsters.
That means the 2015 Spider will be front-engine, rear-drive, and there are rumours that the rest of Alfa's models will follow to created a fully rear-driven range. Whether kudos will be lost because the new Spider will be built in Japan remains to be seen, but if platform and parts sharing with Mazda ups both the Spider's fun and affordability, this is surely a factor that can be easily forgiven.
While the Mazda MX-5 launches in 2014 and is set to use naturally aspirated SkyActiv petrol engines, the Alfa – which has a 2015 release date – is expected to use downsized turbocharged engines as seen in its other models. This could mean a version of the 168bhp 1.4-litre MultiAir turbo that appears in the Mito Cloverleaf and the Giulietta hatchback, as well as a detuned version of the 237bhp 1.75-litre turbo four-cylinder used in the 4C. The 0-60 time should dip below six seconds while the top speed could sit above 140mph.
We expect the Spider to be a more comfortable, less hardcore proposition than the 4C though. And it's also likely to possess a standard manual gearbox, with the 4C's twin-clutch paddleshift transmission an option. Both will have six speeds.
Like the MX-5, the Alfa should be reasonably light in kerb weight, an achievement aided by sticking to a traditional folding soft-top roof. It will also be a strict two-seater.
While the new MX-5 could dip below £20,000, the Spider is set to be a more stylish and luxurious proposition, so it's price tag is likely to be at least ten per cent higher.
Find used Alfa Romeo Spider's for sale on the Classic and Performance Car site here.