Ask Goodwin - What cars have you not driven that you wish you had?
Regrets, I've had a few ...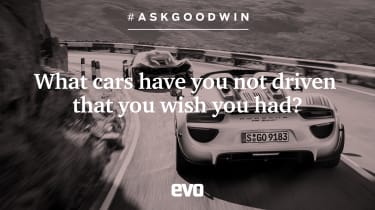 What cars have you not driven that you wish you had? Kate Rice, New York
I've driven almost every car made in the last 25 years. The exception to that statement is top end supercars because they're a bit harder to nail down. Porsche will always have a good selection of 911s, Caymans and Boxster on its press fleet but the more exotic stuff like the Carrera GT or 918 Spider tend not to be on the press fleet.
If you're not invited to the launch of the car you have to rely on luck or blagging skills to get in one. Manufacturers will invite the magazine to the launch and the editor will then either go himself or choose someone on the staff or a freelancer. You win some you lose some.
I've not driven any of the three hypercars of the moment (La Ferrari, 918 or McLaren P1) but I'll be attempting to rectify that in 2016 and have a plan in place for the first two. I've never driven a Veyron but it's not really my sort of car so I'm not particularly bothered.
What does bother me is not having the Ferrari 458 Speciale in my log book, which to answer your question, is the most serious omission. This is an easy one to sort out because my mate James May has just taken delivery of one. The only question is, do I dare ask him for the keys? Driving manufacturers' cars and friends' are two different things.
I'm very glad that I drove most of the iconic hot hatches when they were new (can't think of one I missed), especially 205 GTIs and also giants like the Cosworth Sierra, although not an RS500 unfortunately, and the Lotus Carlton. Then there are a few eccentrics like the Panther Solo, which I drove briefly and must be one of the few who did. The ones that did slip by are more than made up for by the cars I was lucky enough to drive.
Oh, and I've never driven a Chrysler PT Cruiser but then why would you want to?