Aston Martin is set to bring F1 technology to the road with the announcement it will develop a 'ground-breaking hypercar' with Red Bull Racing and its Chief Technical Officer, Adrian Newey.
Codenamed 'AM-RB 001', the hypercar will mix familiar Aston Martin design cues with Formula 1 technology, under an 'Innovation Partnership' designed to bring together the world's leading aerodynamicists, composite experts and manufacturing masters.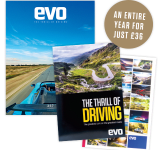 Subscribe to evo magazine
evo is 21 and to celebrate, we're returning to 1998 prices! Subscribe now to SAVE 39% on the shop price and get evo for its original cover price of £3.00 an issue, plus get a FREE gift worth £25!
Details of the project are still scarce at this stage, and our sole indication as to the car's form comes in the shape of a simple sketch – but the signs point to a dramatic shape influenced heavily by Newey's knowledge of F1 aerodynamics.
For Newey, the project will turn 'countless sketches and doodles' into a lifelong dream. 'From the age of six I have had two goals in life – to be involved in the design of racing cars, and to be involved in the design of a supercar' he said, calling the prospect of working with Aston Martin design chief Marek Reichman 'tremendously exciting'.
Aston Martin CEO Andy Palmer is equally enthusiastic, saying the companies will 'create a car that will excite and stir the imaginations of the car designers of the future and a global audience of sports car enthusiasts'.
Speaking to evo's sister title Auto Express, Palmer also hinted at the direction of the hypercar – which will have a track focus rather than chasing the Bugatti Chiron's 261mph top speed.
That includes mind-blowing performance that will let it lap Silverstone 'as quick as or quicker than an F1 or LMP1 car' despite it being capable of driving on the road.
Such capabilities suggest a car far more extreme in aerodynamics and chassis design than existing hypercars – a full suite of active elements, ground effect technology and active suspension is sure to feature, though Palmer also says the car will be 'beautiful'.
The car's engine and transmission haven't been confirmed, but again the focus on F1 technology suggests both turbocharging and some form of kinetic energy recovery will feature. From Aston Martin's current lineup of powerplants, the most likely donor is the 5.2-litre V12 from the newly-launched DB11.
The hypercar is set to be launched in 2018, but with F1-rivaling performance and some of the world's highest automotive technology, it's unlikely to come cheap.
evo Comment
The AM-RB 001 is one of the most intriguing hypercar projects ever undertaken. True crossover from F1 to road cars is – despite the claims of manufacturers – fairly rare, but involving an engineer like Newey in the project is an enticing prospect
The styling too is sure to be groundbreaking. The sole teaser sketch suggests a car not unlike some of the famous streamliners and land speed record vehicles – the sleek style brings to mind vehicles like the Auto Union Type C Streamliner, the Railton Mobil Special and Malcolm Campbell's Bluebird.
But claims the car could outpace F1 and LMP1 cars around a track also hints at Newey's own concepts for Red Bull – such as the X2010 from the Gran Turismo videogame series. That car was built to satiate producer Kazunori Yamauchi's question about a racing car that 'threw away all rules and regulations' – and used fan car technology to enable a theoretical maximum cornering force of 8g.
No road car could realistically be that extreme, but it's a good example of the ideas floating around in Newey's head. Mix those with Reichman's understanding of Aston Martin's beautiful forms, and the finished car could be very special indeed.
What evo wants to know
A car like the AM-RB 001 raises a lot of questions. Not least from the evo team, whose job it will be to drive Aston's new creation when it hits the road. Here's what we want to know…
Will it/can it race? What is Newey's definition of 'ultimate'? They have a test centre at the 'ring, will they/can they develop it there (or is it too fast)? How much simulation work will take place before prototypes are built? Has Newey drawn this car by hand (as he is famous for) - or does it only exist in a virtual world? And also... can we be the first to drive it? - Nick Trott, editor
I think the key is that Newey has developed a whole new aero concept that's not been seen before. Of course I could be wrong but I think it'll be pure track thing - I guess the excitement for RB/Newey is going mad on aero with no rule book to conform to? Love to hear his thoughts on stuff like the FXX and other road car 'aero'. I suspect he thinks it's pathetic! - Jethro Bovingdon, contributing editor
How many to be built? How much will it cost? What will it weigh? How many cylinders? Turbos? Hybrid? - Richard Meaden, contributing editor
The press release refers to Aston as a luxury brand, rather than a performance brand. I wonder what concessions to luxury this car will make? - Dan Prosser, road test editor