Aston Martin Vulcan to be made road-legal after conversion by RML
Three month process sees track-only hypercar converted for road
Aston Martin Vulcan owners will be able to drive their cars on the road following a three-month conversion process carried out by engineering firm RML.
The Vulcan was intended to be a track-only car produced in extremely limited numbers by Aston Martin. Only 24 are to be built, each priced in a £1.8 million.
Increasing demand from Vulcan customers who want to drive their cars on the road has seen RML take on the conversion process. It will involve preserving the Vulcan's track-focused edge, but adapting the car to meet the UK's legal and legislative requirements.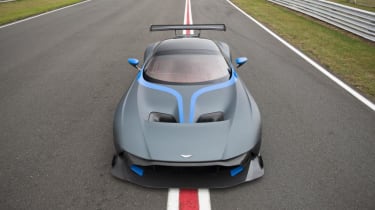 Lights will need to be changed, while some safety testing will need to be carried out. Emissions testing on the Vulcan's 820bhp V12 will also take place.
RML says the first road-legal Vulcan is due to be delivered to a customer by close of play 2016, but is yet to disclose the cost involved. Expect it not to be cheap.
>Read our Aston Martin Vulcan first-ride
The Aston Martin Vulcan was conceived by Aston's own special operations department and utilises a carbon chassis based on the One 77 hypercar, albeit highly modified. The huge rear win on the car is capable of generating 1360kg of downforce at 200mph.
The Vulcan isn't the only track-based hypercar set for road conversion. Engineering firm Lanzante is currently in the process of transforming a McLaren P1 GTR into road-legal spec.