Aston Martin collaborates on design of submarine
Forget 007, Aston Martin is targeting new customers like Davy Jones and Jacques Cousteau with its latest submersible model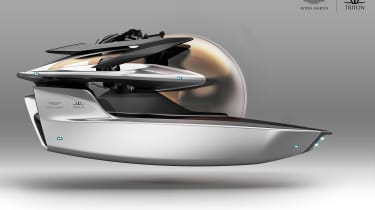 Already got a One-77 in the garage, a Vulcan at the track and an AM37 yacht in the marina but lacking that final member of your Aston Martin quartet? Well, Aston Martin, in collaboration with submarine manufacturer Triton might have just the thing for you, an Aston Martin submarine called Project Neptune.
Aston Martin Consulting, an offshoot of the Aston Martin automotive design studio has designed a submarine that will actually be built in a strictly limited number for wealthy customers to hang off the back of their super yachts.
> Click here to read all about the new Valkyrie hypercar
The sub is based on Triton's highly acclaimed Low Profile three person platform and Aston Martin designers have set about transforming the usually technology driven design into an aesthetic distillation of the Aston Martin brand. Redesigning the components that encase the Triton's distinctive acrylic bubble, the Aston Martin Project Neptune will include components like air-conditioning and humidity control to make your undersea exploration as comfortable as possible.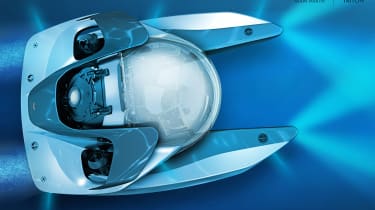 Some of Triton's three passenger civilian submersibles are capable of diving to depths as low as 1.4 miles, meaning you can get up close and personal with some of the cuddliest sea creatures like Viperfish and delightful sounding Vampire Squid. Technical specifications of the Project Neptune have yet to be confirmed and prices will definitely be in the 'if you need to ask' category.
More an example of Aston Martin's desire to build its luxury brand equity than actually sell submarines, this is yet another sign that Aston Martin, under the leadership of Andy Palmer, is in its strongest position in recent history. With an all-new, high-volume V8 Vantage, world beating Valkyrie hypercar, expansion into EVs and new crossover all due in the next two years, Aston Martin looks primed to take on its second century in style, regardless of whether it is above or below the waves.