Aston Martin owners considering possible stock market floatation
Insiders claim that Aston Martin could be headed towards floatation on the back of encouraging growth.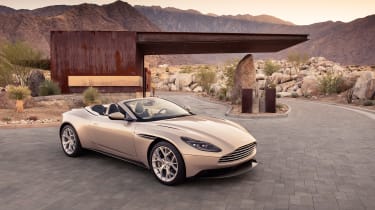 The owners of Aston Martin could be in the process of floating the company on the stock market, according to a report by Reuters. The British marque is enjoying a period of buoyancy due to rising sales and a fresh suite of new products, and it appears Aston's current owners may want to take the opportunity to cash in.
Sources 'familiar with the matter' have claimed that Aston Martin's major stakeholders have hired investment bank Lazard to work on an initial preliminary plan. Currently, Italian private equity firm Investindustrial and a group of Kuwaiti investors own around 90 per cent of Aston Martin between them.
> Click here for our look at the all-new Vantage
Specific details of the plan are as yet unknown, but reports suggest it could go in one of a couple of different directions, either being floated on the stock market in an initial public offering (IPO) in the third or fourth quarter of 2018, or a trade sale could be made to a separate manufacturer. Ferrari underwent a similar process, being floated by parent company FCA in 2015.
The option of a trade sale might prove to be a little more complicated, as the marque's recent technical partnership with Daimler has come about with the German conglomerate taking its own 5 per cent share in the company. Many of Aston Martin's new and upcoming products use Mercedes-derived electrical systems, while the engines in V8-powered cars are Mercedes-sourced, too.This might prompt the massive German manufacturer to put a stop to any sale to a rival brand.
Italian firm Investindustiral acquired a 37.5 per cent stake in Aston Martin in early 2013 with a £150m investment, and it's thought to be driving the plan forwards. Reuters' sources are keen to stress however that nothing has been set in motion, and that Aston's current investor base still maintains full control.
Aston Martin has since commented saying: "Any IPO for Aston Martin would be at the sole discretion of our shareholders. The management team is focused on delivering our annual and medium-term business commitments under our Second Century plan."