Listen - Audi R8 GT3 exhaust note
Prepare yourself for the incredible sounds of that V10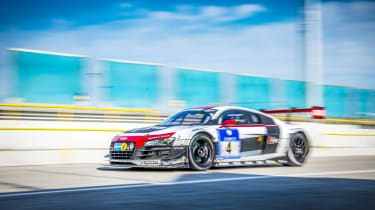 561bhp, a V10 engine and one of the most incredible exhaust notes in GT3 history, make this Audi R8 a total feast for the senses.
evo's Richard Meaden recently drove the car, which you can see in full on video here. But we liked the way it sounded so much we thought it might be nice to treat you to a little clip of pure, unadulterated noise.
For more on Audi's race cars, it's also worth checking out Meaden's recent drive of its R18 e-quattro Le Mans car. See below to witness the incredible LMP1 car in action.