Audi's five-cylinder RS3 is the fastest accelerating hot hatch ever to enter production. But it may soon face a challenge from another car with an identical cylinder count, Volvo's monster C30 Polestar. We find out which is quicker with a drag race. Some have reported sub 4sec 0-60mph runs from the Audi, but the Volvo possesses a supercar-like 399bhp and 376lb ft of torque. Which one's your money on?
The full story is in evo issue 161, on sale Weds August 17.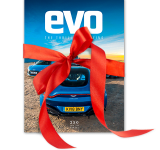 Subscribe to evo magazine
If you're passionate about the world's greatest performance cars, experience the thrill of driving with evo magazine. Try your first 5 issues for £5.