Audi S3 v BMW M135i track video
The rear-wheel drive BMW M135i and the four-wheel drive Audi S3 face each other on track at the Bedford Autodrome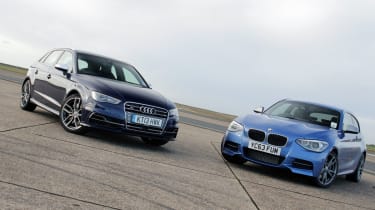 This week's evo track battle pitches the 316bhp BMW M135i against the new 296bhp Audi S3 Quattro at the Bedford Autodrome.
With a basic price within £200 of each other (Audi S3 starting at £30,640 and BMW's M135i coming in at £30,555) it's hard not to compare the two ultra hot hatchbacks. The Audi gives up some power and to the BMW, but can a slightly lower weight and some extra traction from the four-wheel drive system make up the difference on track? Jethro Bovingdon finds out.
Subscribe to evo's Youtube channel to keep track of all the latest track battle videos.