New Bentley Arnage teaser
Bentley goes down the teasing route for its Arnage replacing sports saloon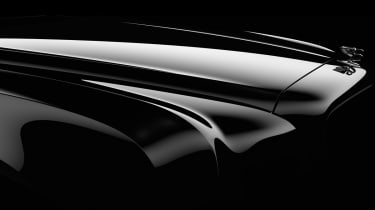 Teasing shots and drip-fed information are the latest fad when it comes to announcing new cars, and even Bentley's getting in on the act now.
Much excitement surrounds the brand's new Arnage-replacing luxury saloon, and thus far this shot and short video is all that's been revealed. The car will get its full unveil in the coming months, but for now we're kept guessing. The clamshell-style bonnet is very sculptured, and tapers towards the Flying B emblem.
The power source of the new Arnage (although name is still unconfirmed) is unclear, but for now diesels and hybrids are being ruled out, despite the readiness of capable oil-burning engines - such as the unit from the Audi Q7 V12 TDI - that could well suit the car's character. Bentley's biofuel technology could make an appearance, though, with the Continental Supersports and its 6-litre W12 FlexFuel engine not far from launch.
Keep your eyes on evo.co.uk for more information, with a slow drip-feed of details potentially on the cards...