Bentley drops diesel in the UK
Bentley has followed Porsche in dropping its diesel engines in the UK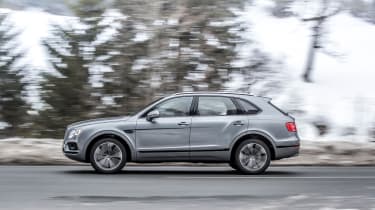 Almost before it began, Bentley's Bentayga diesel has officially been removed from sale in western European markets, but will remain on sale in other regions such as Russia and South Africa.
The move follows Porsche in removing the increasingly marginalised engine type from the range after little more than a year on sale. Bentley will instead prioritise its adoption of hybridisation, its first model being the Bentayga Plug-in due to go on sale next year.
> Click here for everything you need to know from the 2018 Paris motor show
The diesel engine itself was sourced from Audi, sharing its 4-litre V8 triple-turbo (of sorts) unit found in the SQ7. Like the Audi, the Bentley Bentayga diesel utilised a 48V electrical system to power an electrically driven compressor, helping plug the torque gap before the bigger, exhaust-driven turbos had a chance to wake up.
Producing 429bhp and 664lb ft of torque, the Bentayga diesel was no slouch despite its more than 2.5-ton kerb weight. But the impressive grunt was not enough to overcome the increasing trend in western Europe towards petrol and hybrid powertrains.
Bentley denied the news has anything to do with the increasingly pressured WLTP requirements, which have recently seen several of the Volkswagen Group's larger engines taken off sale in Europe.
While the Bentayga's V8 diesel unit will be removed from sale in Europe, it will continue to be offered in markets like South Africa and Russia, where there is greater demand for diesel engines. Bentley claims there will be no disappointed customers, as there is currently no waiting list for the Bentayga Diesel.