BMW 135i
The weather conspired against a new Bedford track time, but the car feels sharper than the 20bhp increase suggests, so expect a fast lap when it's finally measured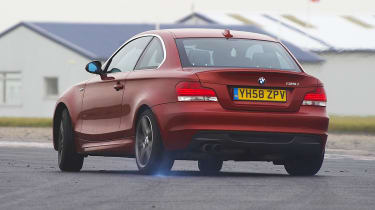 When we set out on this exercise to modify the 135i with parts from the BMW Performance brochure we expected to end up with a car that was both better to drive and faster around the West Circuit at the Bedford Autodrome. We've fitted the wheels and suspension and we do indeed have a 135i that's keener and more driveable, but not one that's quicker over a lap. It's a fraction slower, in fact. I wasn't convinced that adding more power would make things better, but, now we have, I've a suspicion it just might…
The BMW Performance engine upgrade brings an ECU remap and an additional intercooler radiator and is said to lift the power from 302bhp to 322 and the torque from 295lb ft to 317 (automatic 135is go to 332lb ft thanks to the higher torque capacity of the auto 'box). There are much bigger gains on offer in the aftermarket tuning world but only the BMW Performance kit leaves your BMW warranty intact.
While the headline figures don't look spectacular value for your £1100, plus fitting (we were quoted £525 by Wollaston BMW, Northampton), the car feels stronger than the figures suggest. That's a welcome surprise, but much more appealing is the notably sharper response. The twin-turbo straight-six picks up instantly when you drop the throttle, and more strongly. Part-throttle response is much keener, too. It's an altogether feistier delivery, with unaffected general driveability.
We had hoped to set a new lap time before going to press but the weather was against us, the day at the Autodrome unrelentingly grey and drizzly. However, I think we'll see more of a lap time gain than 20bhp and 22lb ft ought to produce. I reckon the new, lower, stiffer BMW Performance suspension works better with the more responsive engine, which enlivens and sharpens back-end movement. On the road there's no waiting for the front to commit to a turn; a prod of the throttle gets the nose tucked in, thank you very much. This was also noticeable on the damp, slick West Circuit, though the real fun there was running almost to the steering rack stops on the exits in third gear. Surprisingly, we discovered that even with all dynamic aids off, the system can still intervene, yards into a big slide. 
Hopefully we'll have a result next month, when we'll also be able to tell you about the effects of fitting a set of sticky, lightly treaded but road-legal Kumho Ecsta V70 tyres.
Running Costs
| | |
| --- | --- |
| Date acquired | May 2009 |
| Total mileage | 13,180 |
| Costs this month | £1625 (see text) |
| Mileage this month | 709 |
| MPG this month | 25.8 |