BMW is trying to get a piece of the big, fat, profit-rich pie that luxury SUVs such as Land Rover have been living off for years, with the X7. Unashamedly brash, built in the US and designed chiefly for both it and the Chinese markets, the X7 represents such a vast divergence from say an E30 M3, that we may as well be in an alternate reality where Nissan Micras are bought by oligarchs and Rolls-Royce offers heavy discounts for company car buyers.
But we're not currently in such a world (despite whatever the current political climate tells us) and yet BMW's new seven-seat, 5160mm-long, 2460kg X7 M50d does indeed exist. Ostensibly, this six-cylinder diesel M50d might not be the most ridiculous iteration of such a car – a twin-turbo V8 petrol M50i is already on sale abroad to take that title – but the notion of a £90k quad-turbocharged diesel BMW SUV remains a tough pill to swallow.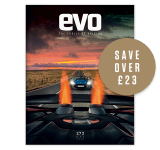 Subscribe to evo magazine
Subscribe today to have every issue of evo delivered straight to you. You'll SAVE 39% on the shop price, and get evo for its original cover price for a whole year!
So, can the X7 M50d rival other £100k SUVs such as the Range Rover TDV8 or, like top-level BMWs have in the past, does it fail to 'feel' and drive like a car of this stature and price point should? It's an answer that is about as nuanced as the car itself – we'll let you try to figure out what side of the 'wall' we're on.
Engine, transmission and 0-60 time
From a purely technical standpoint, the M50d's point of difference over its lesser 30d and 40i siblings is a hike in performance, under the M Performance brand. This same powertrain is available in the X5 M50d, as well as the M550d Saloon and Touring in continental Europe, but here finds itself with the requirement to motivate over 2.4-tons of high-sided SUV.
The 3-litre straight-six utilises no less than four turbochargers, made up from two sets of sequentially operated units driven by the exhaust gases from three cylinders each. The system is actually less complex than the triple-turbo unit found in the previous-generation M50d X5, but does produce some impressive numbers considering the relative lack of engine capacity. Peak figures are rated at 395bhp at 4000rpm, with a torque peak of 561lb ft available at 2000rpm.
The transmission is of the usual eight-speed ZF torque converter variety, and like nearly most BMW automatic transmissions is finely calibrated and predictable, rarely caught napping between gears and selecting appropriate ratios for maximum utilisation of the diesel's relatively narrow powerband. Acceleration times are impressive considering the gargantuan amount of metal being moved, with the big Beemer reaching 62mph in 5.4sec. Of course, the real, and let's be honest, the only reason you would go diesel is to reduce fuel use, and indeed the X7 M50d is more efficient than it would be if it were powered from the green pump, but its WLTP mpg rating of 31mpg (real world is more like 30mpg) is on the low side of acceptability for a cutting-edge diesel-powered SUV like this. Unlike almost all of its rivals, the X7 M50d does without any direct mild-hybrid assistance, and despite plenty of sound augmentation it sounds nothing like as purposeful as the V8-powered Audi SQ7 TDI.
Technical highlights
Beyond the powertrain, BMW has given the X7 M50d a big chunk of its technological arsenal as standard (as one might expect for nearly £90k basic), but there are a few key omissions pegging back the M50d's already stretched value equation. One such feature only available on the options list is BMW's rear-wheel steering, something that would definitely benefit manoeuvrability considering the X7's big footprint. Together with the rear-steer is an active damper system borrowed from Rolls-Royce, which feeds navigation and camera data into the system to actively prepare for intrusions in the road surface, rather than just react.
Most other key options are bundled into packages, with fairly standardised options such as a head-up display and a full suite of active safety kit forming a Technology package, while the laser beam-assisted headlights are part of the cunningly named Visibility package. Unfortunately, on a dark, albeit back-road drive with those headlights on full power, I couldn't actually tell if the actual lasers activated at all regardless of having a clear road ahead and driving at over 60mph. Still, the standard 'active' LED beams worked with stunning clarity.
Multi-level air suspension is standard, so too double wishbone front suspension, and for those insistent on interior theatrics, all three rows of seats are fully electrically adjustable. There's also a panoramic glass sunroof, LED lights inside and out and a plethora of parking assistance cameras, sensors and autopark functions.
What's it like to drive?
This is usually when we caveat the best-driving SUVs with the 'for an SUV' tag at the end. The X7 doesn't require such a modifier, and not for any good reasons. The X7 feels big, yes, but it also feels tall, haphazard and dare I say it, a little unsophisticated as it lollops from compression to compression as the suspension struggles to deal with complex road intrusions. Accelerate from a standstill with some enthusiasm and progress is made, but the odd and rather intrusive warble from both exhausts and speakers doesn't really equate to the numbers on the speedometer, while the body feels like it lurches back onto its standard 22-inch wheels, rather than the rear axle.
Despite a reasonable amount of profile on those 22-inch tyres, there is far too much road surface chatter transmitted into the cabin, and while the suspension does isolate bigger bumps with that typical air-sprung float, the body doesn't quite absorb these gentle movements as deftly as a full-sized Range Rover would. Tighten the dampers in Sport mode (why would you anyway?) and the ride only deteriorates, with no appreciable benefit to 'roadholding or handling' as the brochure might suggest. It's a more composed car to drive in any mode than a Range Rover, but does so with the critical flaw of not riding with much sophistication – a reasonable expectation at £90k.
On the move, the engine doesn't quite feel its 561lb ft, struggling to manifest the necessary urge to make overtaking at motorway speeds feel effortless. The numbers eventually arrive, but do so with more strain and effort than the V8 diesel units you'll find in an Audi SQ7 TDI or Range Rover TDV8. The steering and brakes are at least trustworthy, isolating yes, but also reassuringly consistent and well calibrated. Unfortunately, without sounding like a broken record, the X7 feels exactly as agile and fun to drive as its kerb weight suggests. It doesn't shrink at speed, nor does it really feel like a BMW.
There is nothing in the way of entertainment to be had, but it also lacks the ability to soothe or isolate as effectively as its rivals, falling into an awkward compromise of being 'sporty' for no apparent reason other than to justify its flagship status. If there is an elephant in this room that's not the X7 itself, it's the M50d's bold styling. This type of luxury SUV was never going to be subtle, but the efforts to which BMW has gone to shock with its haunted house face and vertical cliff-face flanks doesn't help its quest for social acceptance in the UK.
Prices and rivals 
The cost of entry to this ride is £87,400 before options, around £17k more than an Audi SQ7 which features more kit, a better powertrain and as many seats. Select a couple of those option packages and this easily becomes a six-figure BMW. If you can forgo the rear row, £87k is also only around £2k below that of a Range Rover TDV8, although you'll be needing to spend over six figures to match standard equipment. Mercedes-Benz also has its gargantuan GLS coming to the UK, but its closest derivative will be the GLS400d and its lesser powertrain with even less intent of being dynamic or sporty.
If we sound like we're being somewhat harsh on something that should never be sporty to drive, it's worth remembering that when we start talking about cars of this calibre, the obvious narrative is one of fitness-for-purpose, rather than driving thrills. The inconvenient truth is that the X7 M50d is a compromised, expensive, not particularly comfortable family bus that doesn't really excel in any core functionality aside from the cubic capacity of the enormous cabin.
If you absolutely need the space, a standard X7 30d is a better car, while a Discovery is a better family car still. But if you want your flagship BMW to be a status symbol, rather than family bus, buy a similarly priced BMW 750i saloon. It's faster, more entertaining, more composed, more luxurious and crucially more authentic. A fitting, considered flagship, not one built out of circumstance.