The BMW M3 performance car is 25 years old. And as a rather excellent birthday present to itself, the company has produced the very fast (and very orange) M3 GTS, a 444bhp Porsche 911 GT3 RS-baiter that Chris Harris drove this week (click here for the review).
It's certainly not the first 'special' M3 though, and the gallery below – click the pictures to enlarge them – reveals some of our favourite M3s from over the years, from the original E30 through the immensely popular E46 variants to the V8-engined E92, which looks particularly nifty in its recent Art Car Le Mans livery.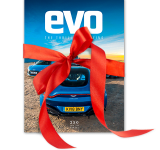 Subscribe to evo magazine
If you're passionate about the world's greatest performance cars, experience the thrill of driving with evo magazine. Try your first 5 issues for £5.
Video: original BMW E30 M3 takes on current BMW E92 M3
Click here to see the new M3 battle the Mercedes C63 AMG Group test: M3 CSL v Porsche 911 GT3 v Impreza STi Spec C Buying guide: how to bag a good E46 BMW M3 or M3 CSL