BMW M5 v TVR Chimaera v Audi RS2 v Renault Clio V6 v Mazda RX-7 v Subaru Impreza v Lotus Espirit
Panda 100HP just a little too… sensible? We find out what else you can buy for £10K – if you're prepared to go second-hand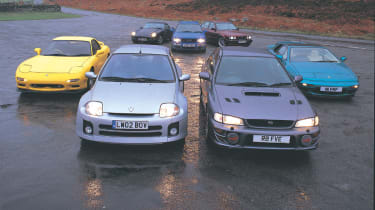 So the Panda 100HP (see the review here) is a hoot, as much fun as you could reasonably expect of a new car that dips below the £10K mark. But is it enough? Is it too sensible for a super-unleaded-fuelled enthusiast? Maybe your expectations are higher, maybe you don't care too much for warranties and budget insurance premiums. Maybe you spend too many hours perusing websites and glossy mags stuffed full of irresistible bargains to even think of sinking ten big ones into a car designed for the real world when the same money could buy you a ticket to B-road or trackday heaven. Maybe we can help you out…
Let's assume you want your £10,000 to buy you more than just a bit of fluffy fun. You want excitement, speed, a sense of occasion when you settle behind the wheel and a flush of pride every time you open the garage. We understand. We're afflicted with the same disease. And so it came to pass that we started thinking about what we'd buy with our very own ten grand. The list, whittled down from a dozen or so to just seven, has everything from mid-engined supercar to rear-engined hatch via big brawny saloon and loony Japanese coupe. Let's take a look at our £10K heroes.
The Lotus Esprit is pure fantasyland, the antithesis of the Panda. But it had to be here. It's the real deal, a supercar for supermini money, and it looks so good it reduces men to schoolboys at fifty paces. As does the Clio V6, a car of humble origins and questionable dynamics in its early life, but also blessed with an effortless charisma. Deep down it might be 'just' a Renault Clio, but it looks, feels and sounds incredibly exotic. How do they do that?
Mixing it with the strict two-seaters, we have BMW's immense M5 (E34 vintage) and Audi's RS2, an estate with engineering by Porsche. Both are as sensible as ten-year-old 300-plus bhp cars can be (i.e. not very by Panda standards), but more importantly they both offer hard-hitting performance in the most understated of packages. Either marks out its owner as something of a connoisseur.
Mazda's RX-7 is, unfortunately, less well regarded. A darling of the tuning industry, basis for countless fibreglass 'aerokit' monstrosities and all too often the home of a sound system so loud it drowns out even ridiculous aftermarket dump-valves, the RX-7 has a bit of an image problem. It's a tragedy, because the third-generation RX-7 is a beautiful shape, and the twin-turbo twin-rotor Wankel engine, tight dimensions and lightweight construction ensure superb dynamics and a unique driving experience. A good, unmolested RX-7 is a very fine thing indeed.
Our other Japanese contender is the iconic Subaru Impreza RB5 with Prodrive Performance Pack. It's not quite as powerful as some of the imported STIs, but in our experience it's more than a match for the peakier, stiffer and more aggressive Imprezas. Every ingredient is perfectly optimised for UK roads. If point-to-point speed is your thing, then the RB5 is king.
Finally we have the TVR Chimaera 450. You can get a Cerbera or a Griffith for £10K, but the AJP-engined coupe is more of a liability and the Griff can't quite match the Chimaera's all-round appeal, nor is it available in such numbers. For everyman, the Chimaera is perhaps the perfect British sports car: grunty and vocal, gorgeous and approachable. You've got to love it.
Romance is one thing, substance quite another. Over the next two days we'll discover if any of these cars can still cut it, or whether time and tired dampers and well-worn engines have taken the shine from these solid gold drivers' cars. Is a 15-year-old Lotus just an empty shell where once lived dazzling brilliance? Can a two-generation-old M5 still uphold the honour of that iconic badge? Will we survive two days driving a Clio V6 in December? Exmoor will throw wind and rain and some of the toughest roads in Britain at our old- stagers. Let's hope they're up for the fight…