Despite generally taking our racing cars with as high a cylinder count as possible, evo was at last weekend's Formula E finale at Battersea Park in London. You can read Antony Ingram's report on what turned out to be a very exciting (and zero-emissions) race, but lurking in bowels of the paddock, sandwiched between the bustling Michelin tyre tent and the medical centre, was something else quite exciting: the series safety car.
Safety cars are always fascinating, of course. They are road cars modified to cope with abuse – stiffened, lowered, stripped, maybe even fettled to develop a little more power. They often need additional cooling, too, and pepped-up brakes, and sometimes aerodynamic downforce that's not at all necessary for their road-going relations. Simply, they represent what a lot of us might do to a car if we had the funds to buy a base model and then start tinkering, and while some of these modifications are for show, most of them are for go, and so it is with the BMW i8.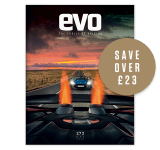 Subscribe to evo magazine
Subscribe today to have every issue of evo delivered straight to you. You'll SAVE 39% on the shop price, and get evo for its original cover price for a whole year!
We've already discussed the significant fact that the battery feeding the electric motor on the i8's front axle can be replenished wirelessly – bravo Qualcomm's 'Halo' technology – but at Battersea Park we serendipitously crossed paths with the man who developed the car, Peter Krams, and couldn't resist picking his brains.
Krams' official title is director of innovation projects in e-mobility at BMW, which presumably means he's going to be a very busy boy in the foreseeable future. Today he's well turned out but seems nothing out of the ordinary – suede brogues, grey jacket, brown-ish hair, stern-ish expression. Not, perhaps, your typical skunkworks type.
Then again, the nature of Krams' work is also on the subtle side. In the past he's helped put an electric Mini around the Nürburgring in under ten minutes and built a single-seater city car with a hydraulic tilting system that resembled the Carver One (remember those?), but we don't know much else. Indeed, with everything from two-cylinder motorbike engines to twin-turbo V8s and a rapidly growing arsenal of electric hardware in the BMW parts bins, his options going forward are enviably broad, but sadly he won't be drawn. He does, however, talk freely about the machine here today.
Not a man to mince his words, 'much understeering' is how Krams begins. He's talking about the road car, though. 'It's not designed to go on a race track, and the disadvantage of the Formula E tracks is that there is no space – there are walls and it's all very narrow. If the car isn't driving in the direction you want it to, it is hitting the wall, believe me.'
That sounds absurdly obvious but it's a serious concern and we're talking small margins here. Thus, in order to make the i8 an altogether pointier machine, take the slack out of its dynamic behaviour and keep it away from those walls, Krams' department has replaced the suspension with bespoke Bilstein coilovers (oh to have the budget to commission Bilstein!) that are adjustable for bump and rebound. The ride height has also been lowered a racy 15mm and the upper wishbones have been 'modified'.
More noticeably – and most welcome given i8's toothpick tyres – the contact patch with the road has increased, and the front tyres are now 245-section (up a useful amount from the 195s of the standard car) while the rears are 285-section (up from 245). The rubber is from Michelin – Pilot Super Sports, presumably because cold Cup 2 tyres could be a handful on a damp street circuit – and the overall effect is quite profound once you've clocked that this isn't merely a dealer-spec i8 with flashing lights on the roof.
Glance through the 20-inch ATS multispoke alloys and you'll see that these improvements to the chassis are reinforced by motorsport-specification AP Racing brakes that replace the heavy, slightly woolly regenerative brakes of the road car and they use six-piston calipers at the front. Krams says these also save around 5kg in unsprung mass at each corner.
Inside, meanwhile, it's pretty much business as usual. There's an FIA-approved roll-cage that adds 50kg to the kerb weight and was fiendishly difficult to install thanks to the i8's carbon tub ('you cannot weld to carbonfibre'), but apart from that, the removal of the rear seats and some carbon-shelled Recaro bucket seats, the changes are subtle. Why no flocked dash? 'No time, no need, no budget.' Fair enough.
But what of the plug-in hybrid powertrain? With this second iteration of the i8 safety car, BMW has improved cooling, and there are two additional fans in the back of the car to prevent the three-cylinder engine from cooking itself. Krams says we wouldn't have noticed it at the time, but in the first season of Formula E the original i8 safety car came perilously close to conking out on track because of the heat, and seeing as the development budget comes directly from the marketing department, such an episode probably wouldn't go down too well at HQ…
'For the first race of the first season, I didn't get much time to design the vehicle – only a few weeks,' says Krams. 'So it was only the roll-cage, the seats, the stickers and the lights. Then we had problems with engine temperature. In fact the motor was running into a limiter that reduces engine power, and it almost went into "limp" mode when it was leading all the race cars.'
So, the i8 safety car sits lower than the road car, has a very different wheel and tyre setup and benefits more effective cooling, but get up close and you'll also start to pick up various changes to the bodywork. The rear end now sports small carbonfibre fins that Krams says offer between 20kg and 30kg of downforce (he also says a rear wing capable of developing 170kg of downforce has been designed, but it's not in use – not yet, anyway). The rear diffuser has also been extended by 75mm and there's a pronounced lip around the fan vent in the bonnet.
Combined, these changes would seem to have laid the perfect foundations for a whopping great power hike and a four-wheel-drive coupe capable of going up against something as rabid as a Porsche Turbo, but Krams has resisted temptation in a way that few could.
'It could be faster but we haven't modified the drivetrain regarding power. Bruno [Correia, the driver] is always asking for more power, and now the vehicle is actually able to handle more power… Realistically it could handle 540bhp [quite a bit more than the 357bhp of the standard car].'
It's now, directly after that delicious claim, that Krams gets his toes back on the corporate line and sheepishly points out that the i8 isn't designed to be a 'super sports car' at all. Rather, it's an environmentally friendly sports car with a certain level of refinement. Still, the cat is out of the bag – BMW has developed the i8 to the point where understeer has been chased from of chassis, the handling has been given claws and the powertrain is ready for teeth. Consider also that this car has been internally benchmarked against the M4 GTS for an idea of its potential.
Indeed, with its vented, Lamborghini-style rear windscreen and radial spokes, Krams' personal incognito safety car – his daily driver, painted in silver but with almost all the upgrades of the car seen here  – has already been mistaken for a development mule for an updated i8. 'Now you can drive the i8 with your arse,' he says with a smugness that's hard to bear. Sounds like a proper evo car, Peter. Time to share it with the rest of us?