Audi RS4 v BMW M5
The stuff-shifting version of Audi's RS4 meets BMW's new dog-friendly M5 in a pan-European hyperwagon showdown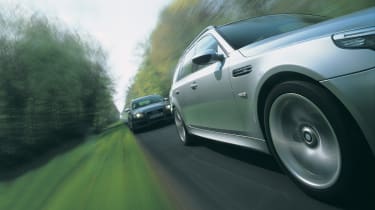 It's not often you feel sorry for the Audi RS4. It bulges with aggression: compact, squat on its springs, gently rocking to the beat of its stunning 414bhp 4.2-litre V8. The RS4 looks hungry – to be driven hard, to take great chunks out of any road it's pointed down, to deflate the egos of M3 and 911 owners. If ever there was a car that can take care of itself, it's the RS4.
But today it's chasing a seriously fast-moving target, the BMW M5 Touring. And first impressions suggest that it's got its work cut out. Everything about the BMW is immense. The weight and precision of the steering, the huge grip generated by the 285/35 ZR19 Michelin Pilot Sport tyres, the endless, towering, epic nature of its 500bhp 5-litre V10 engine. For once the RS4 is a piranha in shark-infested waters.
So why have we brought these two together? The RS4 is giving away nearly 100bhp, at £51,255 it costs £15,820 less than the big Beemer and was developed to tackle M3 rather than M5. However, it is the most focused, the most exciting and the most desirable estate car on the planet. It's quicker and more agile than the V10-powered S6 cruiser and altogether more aggressive and exciting than the thumping Mercedes E63 AMG. Quite simply, when we were offered three days with the new M5 Touring we couldn't think of a car that would put it to the sword so effectively. And as a happy coincidence we might just save you £16K, too. Send the cheques to the usual address, marked for the attention of Jethro Bovingdon…
The bare figures distort the picture slightly, and in truth the RS4 isn't as comprehensively outgunned as the 800cc, two-cylinder, 86bhp deficit would suggest. At 1880kg, the M5 is 170kg heavier than the smaller four-wheel-drive RS4, their power-to-weight ratios not so distant at 270bhp-per-ton for the BMW and 246bhp-per-ton for the Audi. That extra mass won't just give the RS4 a fighting chance in a straight line, it will hurt the M5 when the road narrows and starts to flick left and right, too.
Extra Info