BMW M6: review, specs and buying guide - Page 2: What to pay, what we said, and 'I bought one'
The M6 has one of the greatest ever production engines wrapped in a timelessly handsome coupe body. What's not to like?
Rivals
Jaguar XKR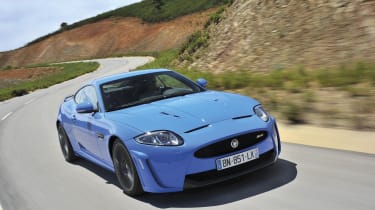 Back in 2006 we saw the arrival of the supercharged 5-litre V8 car badged the XKR. Only £18k to £20k will allow you to pick up a 414bhp first-gen model with an impressive 0-60 in 4.9sec. If you'd prefer the second-gen, £25k will be required, ramping it up to 503bhp and a three tenth lower 0-60 time.
Maserati 4200GT
This Italian thoroughbred withholds a naturally aspirated V8 – engineered by Ferrari itself – which will launch the car with a roar to 174mph and to 62mph in 4.8sec. This baby exotic trumps the rest price wise starting from only £16k and topping off at around £20k.
Porsche 911 Carrera (997.1)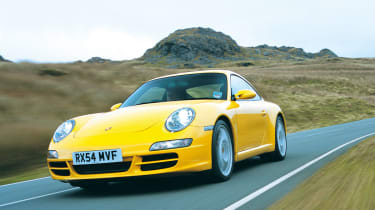 In theory, the German classic lacks compared to the rest with only 321bhp from its 3.6-litre flat-six engine, though where it misses out power wise, it's made up for in the handling sector with amazing traction and a splendid chassis. £18k to £20k is what they're currently up for.
What to pay
Prices for early cars with low miles and good histories have pretty much bottomed-out now. You may see privately advertised cars for as little as £15,000, but tread very warily. Cars with average miles and a solid service history start at around £18k, but you're probably wiser to spend a little more. £20k-£23k gives you the pick of low-to-average-miles cars, coupe or convertible, either privately advertised or from a dealer. Around £25k should get you the very best.
What we said
'We clear Munich and hit the Autobahn. It seems the most natural thing in the world to flick down a couple of gears, bury the throttle and go for V-max.
Seconds later we're there, right on the limiter. The incredibly free-revving 5-litre V10 has done its stuff and I'm smitten. At 155mph the seven-speed M6 has one and a bit gears to go, but this M6 doesn't stop at 155mph... The electronic leash finally tightens at an indicated 270kph, or 167mph, suffocating the mighty engine just as it hardens to the challenge of punching the BMW towards 200mph.
There's an insistence, an almost magical quality to the way the M6 gathers momentum. The performance is gigantic: all-enveloping, distance- shrinking, vision-blurring.
The seven-speed SMG 'box is exceptional, giving a decent impression of a torque-converter auto in the slower modes and zipping through the gears with just a momentary softening of acceleration when you dial up the more extreme software.
It's a testament to the quality of the chassis that it emerges from the drivetrain's shadow within just a few miles. The ride is superb for a car of such potential, but snap the throttle open, start throwing the M6 at some corners and the cruiser morphs into a responsive, nimble and involving sports car, the steering delivering a delicious flow of information.' - evo 43
I bought one
'I bought my M6 three and a half years ago, a 2008 coupe in Black Sapphire, which I found through the dealer network. It had 39,000 miles on the clock when I bought it, and it's now up to 57,000. I used it a lot for the first year or so, but I've got a second car as a daily driver – a 1997 Nissan Micra 1-litre... in purple... I don't even bother locking it! – so the M6 is used more at weekends now.
The car came with the approved used warranty from BMW. When that ended I went onto the Mondial scheme. If you pay monthly, you continue paying the same amount even when the car goes over the 60,000-mile mark. So I pay just over £100 a month and that covers everything, with no excess – they recently changed that so there's a minimum £100 excess now, but fortunately I'm locked in.
The one claim I've made – and it's quite a common fault – was for a throttle actuator that failed. It would have cost about £1300 without the warranty.
Otherwise it's been faultless. The gearbox isn't that smooth in auto mode but in non-auto mode I really like it. I got Elms Cambridge BMW to do what's called a three-stage adaptation on it, which recalibrates everything and optimises the shifts.
I've just had the big service, which comes every third oil change and includes spark plugs, transmission oil, etc. That was just over £1000 from Elms. Tyres I find last about 15,000 miles; pads I haven't had to replace yet but they're due quite soon; mpg is around 15-16mpg, maybe up to 20 on a long run.
I had an E39 M5 before, so I'm a BMW fan, but I really like the M6's combination of luxury and performance. It's quite a rare thing and always feels special.'