Bugatti Chiron Noire special editions to evoke one-off La Voiture Noire
Bugatti's unattainable hypercar spawns two Chiron limited editions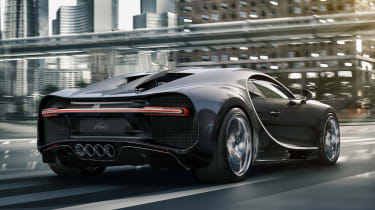 Things are always more enticing when you can't have them, even for billionaires it seems. The Bugatti La Voiture Noire was revealed at the Geneva motor show earlier this year making headlines with its art nouveau styling and an 'undisclosed' purchase price. Designed and built for one very special customer, in typical fashion its demand has been so strong, according to Bugatti, that it's decided to appease second-tier customers with two special editions of its entry-level model Chiron inspired by it, called Noire Élégance and Noire Sportive. 
The former of the two, as its name suggests, is the more sophisticated, its all-carbonfibre bodywork wearing a gloss finish, accentuated with highlights of milled aluminium along the c-motif along the bodyside, a new design of alloy wheels in a polished aluminium finish, and bespoke silver and black enamel badges. The massive brake calipers are also finished in black, completing the monotone look. The interior takes a similar tone, contrasting jet-black leather with polished aluminium detailing and touchpoints. 
The Noire Sportive follows a more traditionally aggressive aesthetic, swapping out the polished aluminium exterior components for ones in a gloss black finish. Inside also takes a darker tone, again trading polished aluminium components for an alternative finish, this time anodised in matte black. Both models also feature a new square mesh design inside the front horseshoe grille, and Noire script detailing inside and out. 
Mechanically the pair have been left unchanged compared to the standard Chiron, although for an extra £85,000, you can have either of these two models upgraded to Chiron Sport specification, which includes a firmer chassis setup, dynamic torque vectoring and a subtle 18kg weight saving. The 1479bhp, 8-litre quad-turbo W16 powertrain is also unchanged, although a lack of straight line speed has never been an issue when talking four-figure power outputs.
In keeping with the 'special' nature of these models, the total build run will be limited to 20 cars starting at a heady £2.56million for the standard non-Sport trim version. Ironically, it will also mean these special editions are among the most common specification of Bugatti Chiron so far, making the unattainable La Voiture Noire from which these are inspired even more ideologically out of reach.