New model Bugatti Chiron W16 engine – yours for just £7320
The 1:4 scale Bugatti Chiron engine is unfortunately non-functioning but you wouldn't know it just by looking at it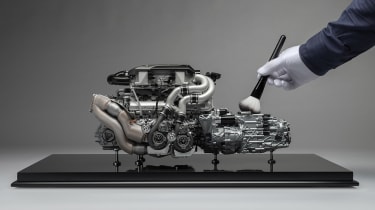 We see plenty of mostly superfluous and often tacky automotive paraphernalia across the evo office, but we challenge you to look at this 1:4 scale Bugatti Chiron engine and not be fascinated by it.
A perfect miniature of the quad-turbocharged 8-litre W16 engine, the scale model still technically has more cubic capacity than a Formula Ford racer, even if it's not actually functional. Premium model car builder Amalgam has paid close attention to detail in the design of the model, working with Bugatti engineers to ensure even components like the tension clamps and barcodes are accurate, just smaller.
> Click here for our review of the Bugatti Chiron
It takes roughly 220 hours to assemble each model, making the £7320 price-tag sound perfectly reasonable considering Dacia Sandero Laureate takes only 18 hours from start to finish and costs the same sort of money. Built from a combination of faithfully recreated materials, the model is made up from a total 1040 components, which is also probably more than that Sandero too. 
If you cant quite stretch the budget to buy the real thing, this might at least bring you a quarter of the satisfaction. Alternatively, it could be the perfect Christmas gift for the Bugatti Chiron owner who has, almost, everything.