What is it?
The CT6 is Cadillac's big, luxury saloon car rival to BMW's 7-series, Mercedes' S-Class and Jaguar's XJ. However, Cadillac know that it will be almost impossible to tempt customers out of these already well established luxury saloons, so instead it is aiming the CT6 at a new market and customer: young, successful, affluent, 'professionals'.
The top spec CT6 Platinum will cost £69,990, just over £1,000 more than the £68,870 Mercedes charged for an entry level S-class. Cadillac hopes the CT6's competative price and outlandish looks will be enough to help establish the brand in Europe.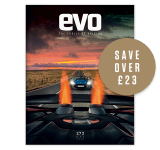 Subscribe to evo magazine
Subscribe today to have every issue of evo delivered straight to you. You'll SAVE 39% on the shop price, and get evo for its original cover price for a whole year!
Technical highlights?
The CT6 is crammed with technology. As well as the usual Apple CarPlay, a big touchscreen infotainment system and built-in wifi, there's also a rear camera instead of a rear view mirror.
A camera points out of the rear of the car with image displayed where the traditional rear view mirror would be. The advantage is that passengers, roof pillars and headrests don't hinder the view backwards. The lens is covered with a special coating so water droplets and dirt don't obscure its view, but you can also switch the screen to a conventional mirror should you want or need to.
In reality, it isn't quite as revolutionary as it sounds. Yes, it offers a wider and uninterrupted view out of the rear, but as the image on the screen isn't the instant, as-fast-as-light reality that a regular mirror provides. It takes a moment for your eyes and mind to adjust to the fact you're looking at a digital image and not the real deal. Part of the problem is that there's no blur in the footage; everything moves by as static objects so it doesn't look natural. The time needed to adjust is just a fraction of a second, but it means you can't simply glance in the rear view mirror and it holds your attention for a moment too long.
Engine, transmission and 0-60 time
The CT6 is fitted with a twin-turbocharged 3-litre V6 that produces 411bhp and 409lb ft of torque. Some respectable figures, and certainly not the massive capacity/small power combination that older American cars were often guilty of. 
The V6 revs freely and quickly up to its 6000rpm limit, but it stays almost silent a lot of the time; just as you'd expect of a luxury saloon. When you do open the throttle the noise it makes is pleasant, but not recognisable as a V6. 
There's only one transmission choice, an eight-speed automatic. The gearbox helps keep the engine low down in its rev range when cruising around town and on motorways. It also keeps the motor in its power band when pressing-on and helps contribute to how sprightly the CT6 feels in a straight line. 
The CT6 completes the 0-62mph sprint in 5.7sec, another respectable figure and a par with its rivals, helped by the standard four-wheel drive drivetrain, there is not rear-wheel drive option, and goes a long way to explain how it manages to find the grip to accelerate its 1950kg weight so quickly.
What's it like to drive?
The most notable spect of the Cadillac is how well it rides. Even on 20-inch wheels the Platinum spec CT6 is as plush and as comfortable as almost any car available. Its seats are big, deep and softly padded which really helps cushion you from any rough tarmac, but some credit must go to the chassis, too, as it feels as though there's metres upon metres of wheel travel.
Such plushness comes at a cost. Although our test route didn't offer many opportunities to explore the CT6's handling abilities – it was mostly town and motorway miles – the occasional corner provided a hint as to its character. The CT6 is inert, there's no adjustment or feedback from the chassis, the rear end very soft with the car settling over its rear axle out of corners, but the forgiving suspension also soaks up any attempt at provoking any excitement.
The lack of thrills is compounded by the engine; although it pulls effectively on the motorway, it's out of its depth when trying to fire the CT6 out of corners and makes it feel sluggish.
There is a Sport mode, but it does very little to the chassis, even though the Platinum CT6 has Magnetic Ride Control dampers. Instead, Sport adds some unnecessary weight to the steering and changes the attitude of the gearbox. If you're driving enthusiastically though, you'll want to change gear manually with the paddles. In manual mode the gearbox is far from perfect – changes are slow and ill-defined, and the paddles are too close the centre of the wheel and not easily reached even by long fingers – but it offers more control than leaving the 'box in automatic.
The steering in either available setting is lifeless, but worse is the inability to effectively judge how much steering input is necessary. The CT6 has rear wheel steer to make it feel more agile at low speed and give it greater ability at higher speeds, but what it actually does is trick you into not applying enough lock; quicker corners require a couple of corrections when turning in, adding a degree more steering, until the Cadillac follows the curve you want.
The CT6 isn't an engaging car when driven quickly, but that's not what it was designed for. Wafting along a straight road or motorway, it works superbly. 
The interior is a pleasant place to be. Not only are the seats comfortable, but also their massage function is one of the most effective and relaxing I've tried; the CT6 also has lane-assist and active cruise control to help you out if you become a little too relaxed. However, as nice as the materials in the cabin are, it still doesn't feel as premium as the European alternatives. The weight of all of the controls don't feel as well considered in the Cadillac as they do in a Mercedes. Also, the graphics, dials and buttons aren't as refined and designed with the extreme tastefulness that you'd find in a German saloon, they're not even as classy as the sub-par items found in a Jaguar.
Price and rivals
The CT6 will only be available in the UK in top-spec Platinum trim, so there are no optional extras with everything you could need already added. All you need to do is choose which colour you'd like.
The one option you'd quite like but can't choose is for it to be right-hand drive; the CT6 is left hand drive only. Cadillac clearly don't expect to sell many in the UK.
The Cadillac CT6 is priced on a par with its rivals. But then so it should be considering the lack of right hand drive, doesn't feel as sharp to drive and isn't quite as luxurious as the European alternatives. However, a similarly specced Mercedes S-class will cost over £100,000. 
> Click here to read our review of the Mercedes-Benz S-class