New Pirelli P Zero E tyre launched with sustainable construction
In a step towards more sustainable motoring, Pirelli has announced a new tyre compound made using recycled and bio-based materials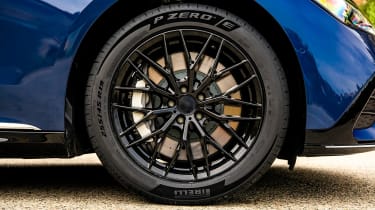 In an environmentally conscious age all aspects of motoring are being scrutinised and refined to reduce their environmental impact, and that goes beyond electric propulsion and sustainable fuels. Pirelli is exploring ways to minimise the use of fossil-derived materials in its tyres, and its latest product – the P Zero E – is an example of how this can be achieved in a high-performance application. 
The P Zero E has been designed to reach the standards expected of a performance-orientated road tyre while using recycled and bio-based ingredients in its construction. These make up at least 50 per cent of the final product, with Pirelli sourcing alternative naturally-occurring substances in place of those based on fossil fuels in normal tyres. 
These include natural rubber from rubber trees, and bio-resins drawn from plant seeds to provide a balance of wet and dry performance. Among the recycled materials used are lignin (derived from scrap paper) to reduce the tyre's rolling resistance and bio-circular polymers, which are extracted from discarded cooking oil. 
For its future products, Pirelli will add a stamp on the sidewall of tyres where sustainable materials make up more than 50 per cent of their construction; by 2030, the firm projects that it can minimise the use of fossil-derived ingredients down to just 30 per cent in some of its products. Speaking on Pirelli's environmental commitments, the firm's Head of Sustainability Giovanni Tronchetti Provera said:
'For several years, Pirelli has consistently reduced its environmental impact: a policy confirmed by all the main sustainability indices, which have recognised our commitment and transparency both in terms of results and ethos. For this reason, for example, we indicate the percentage of sustainable materials by saying 'at least' rather than 'up to'. We will now continue down this road, which our car manufacturer partners also recognise and appreciate.'