Caterham 7 Roadsport buying guide
Not as extreme as the Superlight models, the Roadsport family of Caterhams is perhaps the best compromise between thrills and useability.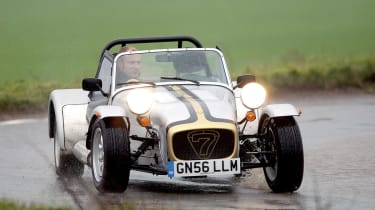 No car encapsulates the thrill of driving quite like a Caterham. But which to choose? It's nearly 30 years since Graham Nearn bought the rights to the Series 3 Seven from Colin Chapman, and to the uninitiated those three decades have produced an almost bewildering number of variants. So let's keep things (relatively) simple. What we're looking at here is the recent generation of Roadsport models, which arrived in the mid-1990s and present an excellent entry point. In fact for many of us here at evo, they're the pick of the range.
The good news? There are loads to choose from, a wide choice of engines and power outputs, and, as with virtually all Caterhams, if you buy wisely, depreciation will be somewhere between minimal and non-existent. There's also a healthy trackday and competition scene for all levels of ability, a thriving online community and a well-tested network of specialists.
The bad? There isn't any really, but at risk of stating the bleedin' obvious, these are heavily compromised cars that very few could countenance as an everyday vehicle. With the hood and sidescreens attached they're tricky to get into, and once you're in they're pretty cramped, although there are larger-bodied versions for the, erm, larger bodied. An Elise is refined and habitable by comparison. But then not even an Elise is such sheer bloody good fun as a Seven.
So what's the particular appeal of the Roadsport? Back in 2007, we drove the then-new entry-level Roadsport 125, powered by the 125bhp 1.6-litre Ford 'Sigma' four, in our Road & Track Car of the Year feature (evo 105). Even with a ballistic R400 for company, it captivated us. After numerous laps of Cadwell Park and the surrounding roads we concluded it was 'proof that modest power is no bar to entertainment and involvement', adding: 'It really is a gem of a sports car, with a perfect match of grip and go that is just as much fun on track as on road.'
The beauty of the Seven is, of course, its simplicity. Whichever version you choose, you get a steel-tube frame clad in aluminium bodywork, with wishbones at the front and a de Dion tube at the rear (even the basic Classic abandoned the live rear axle some years ago). Interiors and equipment levels are rudimentary, though the Roadsport does at least give you a heater as well as a full-size screen and full weather equipment. The Roadsport's arrival in 1996 also coincided with the introduction of the 'long cockpit', which soon became standard across the range (pre-1996 Caterhams can be a real squeeze for anyone over 5ft 10in).
The main differences are the powerplants. Traditionally, Sevens were Ford-engined, but the early 1990s saw the introduction of the Rover K-series to the range. In 2001 Caterham designated MG Rover sole engine supplier for factory-built Sevens (though Ford Zetec engines were still used in kit versions at the time). So you'll find plenty of K-series-engined Roadsports, ranging from 1.4s with just 105bhp, through 1.6s with 115bhp, to 1.8s with anything from a standard 140bhp (a particular favourite of ours) to the potent 165bhp VVC version.
When Rover collapsed in 2005, it meant a finite supply of K-series engines, so Caterham reintroduced Ford power, initially with the 175bhp 2-litre Duratec, later joined by the 1.6-litre Sigma engine, in 125 and 150bhp guises. These remain the staple of the Roadsport range today.The Ford units tend to be a bit torquier, but all of these engines are well-suited to the Seven, and even the humblest K-series delivers more than enough power to zip you past dawdling traffic and – on wet roads – keep you on your mettle.
Some other variations to consider – the SV is the wider, longer, bigger-bodied and 25kg heavier version introduced in 2000 (as a £1000 option) to accommodate drivers over 6ft. Then there's the Supersport, basically a tuned-up, more stiffly suspended Roadsport. The rare Tracksport is, as its name suggests, a more hardcore, trackday-oriented car. And while we're on the subject, don't rule out ex-Academy cars. Based on the Roadsport, these ex-racers make great trackday toys.
If you're still not convinced, you can hire a Seven for a day directly from Caterham, which has a fleet of Roadsports, including the wide-boy SV, based in Surrey, the Midlands, Yorkshire or – if you're feeling brave – Scotland. Cost is from £175. Be warned though – you could develop an itch you simply have to scratch.
'I bought one'
Barry Donaldson - 'When I started buying car magazines there was this little aluminium and GRP kit car that kept wiping the floor with pretty much everything else. One day I drove down to Caterham's HQ, and after loitering around the showroom for a while, I was asked if I'd like to be taken out in one. That was me smitten.
Eventually I was in a position to get my hands on one. I scoured the classifieds and narrowed my search down to a very nice Supersport that had started out with a 1.4 Rover K-series but had been upgraded to a 1.8. It also had the six-speed gearbox.
That was two years ago and I've never looked back. Oh yes, it's impractical. It's also cramped, noisy, draughty, a bit scary in the wet and has the turning circle of a supertanker. But on the right day, on the right road, there is simply nothing else I can think of that I'd rather be driving.
I've had a couple of technical problems, but nothing major. Parts, information and plenty of advice are freely available out there on the internet.
Would I ever go for something more "sensible"? As long as I'm agile enough to get in and out of my car, I'll be sticking with it, thank you very much.'