Cupra Born 2023 review – interior and tech
Flashes of colour and fabric trims lift the cabin, but there are fundamental ergonomic flaws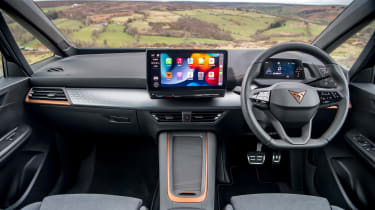 Climb into a Born and that sense of driving something fundamentally different continues. The MEB underpinnings enable generous interior space for the overall footprint, but the Born's cabin is a cosier, sportier place to be than an ID.3, with a high central tunnel offering a large storage bin inside. 
Poke around and some of the plastics feel a touch low rent, but the overall ambience is lifted by a smattering of copper trim accents and recycled fabric upholstery (even if the deep dashboard and front quarter windows have a whiff of MPV about them). The tall body shape gives the cabin a spacious feel, and rear passengers aren't short changed on head or leg room. Oddly, the 77kWh Born gets a different rear bench with no middle seatbelt, making it a strict four seater.
It doesn't have the space-age, unconventional feel of a Tesla inside, but some will prefer the Born's more familiar cabin architecture. We just wish the user interface had more traditional elements, because the ergonomics are a step backwards from older-generation hatchbacks.
The lack of physical knobs and controls makes simple tasks more attention-sapping than they really ought to be on the move, and Cupra's heavily digitised approach hides key functions behind layers of distracting menus on the 12-inch touchscreen. It can be enormously frustrating in a car that's otherwise refreshingly simple and easy to drive.