Up to this point in the season, it seems to be pretty tight with this year's regulations between the three main teams, Toyota, Porsche and Audi. It's great to have Porsche here joining the WEC, and everybody is enjoying the challenge. We had a good winter test in the car, and felt confident of its performance. Thankfully those feelings were proven right in the first couple of races, where we won both Silverstone and Spa. Le Mans is always a different kettle of fish and we didn't really know what to expect there. You obviously have to have reliability on your side, and unfortunately it didn't go our way this year. I felt it was my best chance so far to win with Toyota, and you have to have luck on your side at that race, and once again it didn't go my way, or the team's way. Third place was an important position for the sake of the championship though, and we still lead in both drivers and manufacturers. So, we head to Austin confident that we're going to be fast again, but knowing full well that the likes of Porsche especially will be getting quicker and quicker, the more time that they have in this championship. Since Le Mans we have had one test, which I didn't take part in, but a few of the drivers from the team did. We made pretty good progress at Magny Cours during our two-day test ahead of Austin. I've done a day in the simulator, and a few of the other drivers have as well, so I feel like we're in a good position.  We actually had a strong race there last year. Not our best, but we were still competitive in the race. This year I think the new regulations have leveled the playing field somewhat, and won't be quite as much of a hindrance as last year where we were clearly down on power.  This year, I think it should be a bit more even in the power stakes, and hopefully we'll have a nice clean weekend with even more speed than we had last year.
I really can't wait to drive again, it seems like an eternity since Le Mans, and it's only when you drive the simulator again that you really start to get a taste for what's coming your way again. They're fantastic cars to look at and drive, going just as well as they look. The competition is right there too. It's serious stuff, and WEC is a well-recognised championship now, which is great. I think lots of drivers are seeing it as a different avenue to Formula 1, and the fact that Mark Webber has chosen that category to race in is a big deal as well. A lot of different categories suit different drivers, a fact we've seen demonstrated in Formula 1.  Case in point, Sebastian Vettel. He had a great run with the cars how they were, and since they've changed quite a lot this year, he's no longer the dominant force he once was. We've had a tweak to the regulations in WEC as well since last year, and you do have to think about how to get the best out of a car. This year due to the batteries and all the energy recovery systems, there are little tricks that you can do as a driver to maximise your potential from the car. It's always the same, whether a hybrid or conventional car. Or even a kart.   The beauty about the WEC and particularly LMP1 on the Michelins, is that we never really have to talk about the tyre - and that's a good thing! You know the tyre manufacturer has done the right thing when you never talk about them. Just in the same way that it's a part of your road car that you don't really think about or talk about with your mates. It's only when there's a problem that it becomes a talking point. We've been lucky this year, thanks to the great work that Michelin have done in conjunction with the team, that it's a really reliable tyre. So far we really haven't had any particular issues with the tyres. There are always finer details that you have to be on top of over a race weekend, and mange your strategy right, but as far as driving flat out every single lap goes, we can. For a driver that's a really nice thing. You never want to be conserving your product, you really want to be pushing it to its limits every single lap and as a driver that's what it is all about, going as quickly as you possibly can. In a slight twist of irony, it's weird that in an endurance series we're able to drive flat out, and in Formula 1 that's not always the case.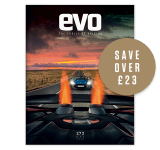 Subscribe to evo magazine
Subscribe today to have every issue of evo delivered straight to you. You'll SAVE 39% on the shop price, and get evo for its original cover price for a whole year!