VW Golf GTI on Michelin winter tyres: report 2
Jon Birch investigates if a set of Michelin Pilot Alpins can provide him with the Thrill of Driving this winter...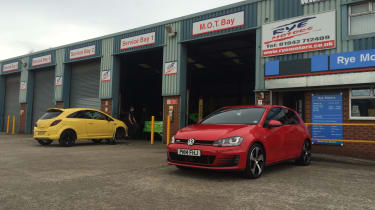 With the recent drop of temperatures deep into single digits, I thought it was time to have the Michelin Pilot Alpin tyres I'd received (read report 1 here) fitted to the GTI. Early Saturday morning I loaded the tyres on to the rear tartan bench and headed over to Rye Motors in Wigan. I've been taking my car there for many years as the guys are true petrolheads. They own some very interesting metal, ranging from Australian Ford V8 Utes to classic Bentleys and Rolls Royces.
I've gotten to know them pretty well and as a result I know they treat my pride and joy as if it was their own. They even offered to keep my summer tyres safe for me over the winter months so I didn't have to put the dirty tyres back in my car. Talk about customer service!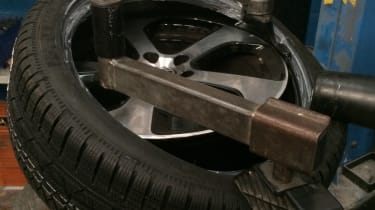 As the team set about changing my tyres, I decided to use the opportunity to make sure the wheels were properly cleaned and sealed. Using a high-tech ceramic wheel sealant helps to make washing them much easier over the cold months. It also provides a highly durable protective layer to fend off the nasty salt and winter grime we get in the rural area where I live.
Once sealed and wrapped in the new Michelin Pilot Alpins, I set off home expecting a marked difference in the general dynamics of the car. I had thought they might generate louder tyre roar and that the steering would be numb and totally lacking in any kind of connection. I was pleasantly surprised to find that the ride hadn't changed. In fact, if anything I would say that the ride was marginally better. Steering was a little lighter too, although I'm putting that down to the higher pressures set by the fitter at 34psi as opposed to the 28psi I was running in my summer tyres.
Incidentally, this pressure is a little lower than I would normally go for, but after reading Dan Prosser's Fast Fleet Report on the same topic with his Corsa VXR Clubsport in evo 202 I've been experimenting and found that at 28psi, the Golf offered a little more turn-in bite and less wheel spin.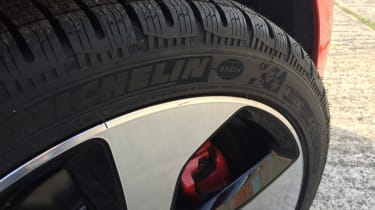 The first real test for the Michelin Pilot Alpins was a late night 20-mile blast across some very wet B-Roads. The way the tyres performed was nothing short of mightily impressive. The grip coming out of tight bends under a wide-open throttle was superb, much better than the summer rubber I'd been used to. In fact, the biggest surprise even in double-digit temperatures is how much quieter, more comfortable and resistant to wheel spin the Michelins are.
The improvement becomes really obvious during quick direction changes. That being said, there exists a very slight delay between your steering input and the car responding with a change of direction, but I put this down to the cut tread blocks allowing more tyre movement.
Temperatures aren't due to rise anytime soon, with the prospects of ice and snow on the horizon. But for the first time since I was a child, I'm looking forward to it.
Check back here next week to see what Jon thought of the Michelin Pilot Alpins on a trip to the Lake District…