2015 Geneva motor show preview - all the cars you need to be excited about
All the new performance cars from the most important European motor show
The 2015 Geneva Motor Show is shaping up to be one of the best in years for fans of performance cars.
Just about every manufacturer appears to have something evo-friendly making its world debut at the show, and others have new and refreshed models on display for the first time in Europe.
evo will have a huge presence at Geneva this year, bringing you up-to-date coverage online and on YouTube, of every single exciting unveiling.
Below is just a taster of what you can expect.
New Audi R8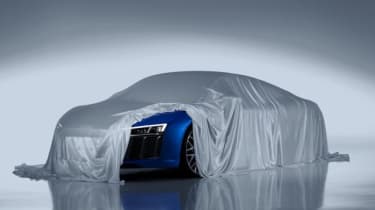 It's been a long time coming, but a new Audi R8 is inbound. The previous generation has proven to be one of evo's all time favourites.
Richard Meaden ran a manual V10 Plus version of the car back in 2014 and was blown away by its blend of practicality, incredible performance and handling. Expect the new R8 to be all those things and more, while fitting more comfortably into Audi's ever-evolving family look.
Aston Martin Vulcan
We don't know a great deal about the Aston Martin Vulcan just yet - beyond a few teaser videos the firm has released. What we can tell from those is that the Vulcan is quite unlike any of Aston's current models.
It's also clear, from the company's recent video, that the Vulcan sports an enormous rear wing, and side-exit exhausts. That spit huge flames...
Aston Martin Vantage GT3
The latest in a series of GT3 models (and GT3-badged road-going specials), the Vantage GT3 is one of the most appealing cars at Geneva and the most extreme road car the firm has produced since the One-77 hypercar.
At 1565kg it's 100kg lighter than a standard Vantage V12, develops a screaming 592bhp at 7000rpm and shifts from its Sportshift III clutchless automated-manual are quicker. £250,000 will secure one, but there are plenty of lightweight options ready to raise the price for those who want the most extreme GT3.
Bentley Continental GT/Flying Spur facelift
Geneva wouldn't be complete without an appearance from Bentley. Fresh from revealing the name of its upcoming SUV - Bentayga, if you missed it - it will unveil facelifted versions of its core models at Geneva.
The Continental GT and Flying Spur get power upgrades - the W12 climbing to 582bhp and 531lb ft of torque - as well as a revised front bumper, radiator shell and new badging. V8 S and GT Speed models also get a new rear diffuser.
Bugatti Veyron - the 450th and final example
Rumours persist of an all-new Bugatti Veyron at the show, but the one thing we know for sure is that the last-ever first-generation Veyron will be at Geneva.
The look of the car hasn't yet been revealed - Bugatti has a habit of showing unique colour schemes and options at Geneva - but what is likely is that the car has already been sold. Veyrons haven't quite flown out of Bugatti's gates at the rate of other hypercars, but few cars still command so much respect.