evo 209 - on sale now
The latest issue of evo is now on the newsstands – and it's a cracker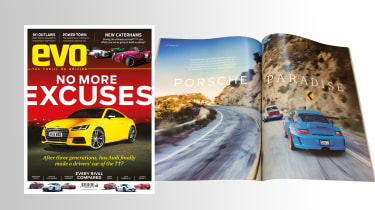 Subscribers have already received their copies of the latest issue, but if you haven't yet subscribed you can now pick up evo 209 from your local newsagent.
If you like Caterhams, sports coupes or tuned Porsches you're in for a treat, and as ever we've got test drives of the latest performance cars too. Keep reading for a full rundown of evo issue #209.
Audi TTS v rivals
Audi's new TT – here in S specification – is the company's best shot yet at making a TT that drives like a sports car. evo pits the new TTS against its toughest rivals from Porsche, Alfa Romeo, Lotus, Peugeot, Nissan and BMW.
Audi Sport TT Cup
Okay, so perhaps there's one TT more suited to spirited driving than the new TTS – that car is the Sport TT Cup one-make racer. Richard Meaden gets to grips with the new racer.
McLaren HQ
Colin Goodwin visits the original McLaren factory in Woking, to investigate where one of the world's most famous F1 teams and supercar makers originated.
Caterham trio
evo tests the three newest models in the Caterham range. Plenty of fun, but there's much more to the test than that – as we'll be building the winner…
West Coast 911s
If you're a Porschephile you'll have heard of Magnus Walker and Sharkwerks. Both have caused a stir on the Pacific coast – and Jethro Bovingdon gets to drive two of their most iconic offerings in issue #209.
Crash helmets
Henry Catchpole delves into the world of helmet design and, with the help of some legendary names, demonstrates why new FIA rules are misjudged.
Ferrari 456 GT
Ferrari's fondly-remembered V12 GT is evo's latest 'icon'. Prices are as affordable as they'll ever be – is it worth your money?
Driven
Cars sampled in issue #209 include the Range Rover Sport SVR, Radical RXC Turbo 500, Lamborghini Huracan and the new Mercedes-AMG C63.