In the new issue of evo, our columnist (and four-time IndyCar champ) Dario Franchitti recalls how trying to use his Ferrari F40 for every journey(!) quickly took the shine off the experience.
What do you think? Should special cars be saved for special drives, or should you drive them at every opportunity?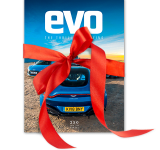 Subscribe to evo magazine
If you're passionate about the world's greatest performance cars, experience the thrill of driving with evo magazine. Try your first 5 issues for £5.
The best answers will find their way into the next issue of evo Magazine.