Ask Goodwin - is twitchy handling a good thing?
Some cars are edgy on the limit. Does this keep Colin Goodwin focused, or just scare him?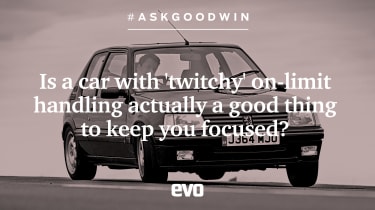 Is a car with 'twitchy' on-limit handling actually a good thing to keep you focused? Toyota MR2 Mk2 as an example‬ - Lawrence Allan, London
Certainly something tricky on the limit will keep you focused, and a Toyota MR2 Mk2 is a good example, especially an early one before Toyota fixed the issue with rear suspension bushes. The Honda NSX is another good example. The list of talented people who've had an off in an NSX is a long one and I can think of several well-known journalists who have come unstuck in one. Surprisingly, I'm not one of them.
Classic Peugeots from the 1990s certainly keep you on the ball. I owned a 205 GTi and was always cautious in that car. The later 306 Rallye was equally tricky and I'd love to own an original one today.
What I like is a car that handles very well but has a bit more power than grip. Doesn't have to have 500bhp and a shortage of grip, a modest amount will do. The original Lotus Elan is a perfect example. It handles beautifully yet has modest grip levels (depending of course on the tyres it's fitted with). The snag with an Elan is if you do get it badly wrong you're not in a strong car.
Dario Franchitti turned up to this year's eCoty in his '70s 911 hot rod. He loves the car but told us that he'd made the mistake of putting a set of too sticky tyres on it so that it now didn't move about as much as it used to. Obviously Dario has rather more talent than the rest of us, but set up correctly an early 911 can provide the perfect balance of good dynamics, power over grip ratio and be challenging enough to keep you on the ball.
Don't know what bikers out there think, but I've never a ridden a motorcycle that's 'tricky on the limit' that I've enjoyed. There's a difference between being focused and being scared.
Ask Goodwin is a weekly column on evo.co.uk by Colin Goodwin, one of the UK's most popular motoring journalists – and one of the early contributors to evo magazine. 
You'd like Colin – he drove an amphibious vehicle across the English channel (it caught fire half way) and he held the Guinness World Record for the highest speed in reverse (104 mph in a Light Car Company Rocket). More recently he drove from England to the Geneva motor show… in a Caterham 160.
Oh, and when he visits the evo office he does so in a plane that he built in his shed…
Check back every week for a new column, and get involved with #askgoodwin either at @askgoodwin (Colin's Twitter) or @evomagazine. 
Make sure to get involved in the Ask Goodwin debate on our Facebook page here. You can also put your vote in via the poll system found on the evo.co.uk homepage.