In preparation for the biggest test of the year, the legendary evo Car of the Year - in association with Michelin - we reveal the 11 finalists that made the cut to partake in eCoty 2015.
You'll have to buy a copy of our eCoty issue (on sale now) to discover the winner, but in the meantime, whet your appetite with a preview to the hottest cars we've tested over the last 12 months.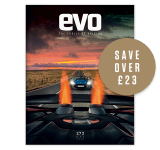 Subscribe to evo magazine
Subscribe today to have every issue of evo delivered straight to you. You'll SAVE 39% on the shop price, and get evo for its original cover price for a whole year!
Lotus Evora 400
Consider that the Lotus Evora S is a five-star evo car. Now consider that the new Evora 400 boasts more power, better grip, greater practicality and the same wonderful chassis only with a little more edge. The design might be getting on a bit but the mechanical package is alive and something truly special. Victory over the Cayman GT4 would be huge.
Read our original Evora 400 review here.
Mercedes-AMG GT S
The Mercedes is here because it won a group test in which it squared up to – wait for it – the Aston Martin V8 Vantage N430, BMW i8, Nissan GT-R and Porsche 911 Turbo. Its twin-turbo engine is hugely powerful and has character, its dual-clutch gearbox is on the money, and it changes direction on a whim. It's a remarkable, fully rounded car.
Read our original Mercedes-AMG GT S review and watch the video here. 
SEAT Leon Cupra Ultimate Sub8
SEAT's answer to the very hottest Renaultsport Mégane models is, quite simply, the fastest front-wheel-drive production car we've ever driven round a track. It shines on the road too. A clever locking diff and modest weight mean the engine's generous power can make itself known, while the brakes seem to operate in a parallel universe.
Read our original Leon Cupra Ultimate Sub8 review here.
Ferrari 488 GTB
Not quite as characterful as the 458 it replaces? Maybe, but the 488 GTB will run rings around its predecessor. Ferrari has done a spectacular job of turbocharging its new V8 supercar and a flood of torque is now only a moment away at all times. Revised chassis electronics also allow the 488 to be driven closer to the limit, and the grip is simply staggering.
Read our original Ferrari 488 GTB review here and watch the video here. 
Peugeot 208 GTI by Peugeot Sport
Not a name you will have seen in evo before, but you know the car: essentially this is the 208 GTi 30th Anniversary continued in non-limited-edition form. This 208 is light, skittish and needs to be driven precisely to get the best out of it, but with a tightly wound limited-slip differential and a punchy mid-range, it's a real contender. 
Read our original Peugeot 208 GTI review here.
Honda Civic Type R
What the latest Civic Type R loses in character (goodbye VTEC as we knew it), it makes up for in sheer performance (hello turbocharging). The Honda retains its superb driving position and gains fat tyres and aerodynamic flicks that lend a Touring Car vibe to proceedings. It's an outside bet for the overall win, but it certainly won't be upstaged.
Read our original Civic Type R review here and watch the video here. 
McLaren 675 LT
McLaren would never admit it, but the 675LT is closer in terms of pace to the hybrid P1 hypercar than the firm would have liked. In fact it's probably the quickest point-to-point car at this year's eCoty. But speed alone counts for very little when the field is chock full of cars that ooze feeling and excitement. So, has modern McLaren got soul? Has it got what it takes to win eCoty?
Read our original McLaren 675 LT review here. 
Porsche Cayman GT4
For so very long a concept Stuttgart daren't realise lest it show up more expensive (and profitable) models, a Cayman by Porsche Motorsport is finally here. With a front axle taken directly from the GT3, aerodynamic bodywork and one of the best manual transmissions on sale, this is the car we all demanded, and this will be by far its toughest test.  
Read our original Cayman GT4 review here and watch the video here. 
Chevrolet Camaro Z/28
Surprised to see a Z/28 in eCoty? Don't be. A first drive in evo 205 revealed this track-biased muscle car to be firmly suspended, but with excellent body control and savage turn-in it was an instant hit. Carbon-ceramic brakes? Lightweight glass? Super-sticky (and super-wide) semi-slick rubber? It has them all. America's answer to a certain hardcore 911 could make a big splash.
Watch the Z/28 lap the Nurburgring in this video.
Porsche 911 GT3 RS
The first Porsche 911 RS without a manual gearbox is also the first of its line to feature such technology as four-wheel steering and torque vectoring. There's also extensive carbonfibre, far greater downforce and, yes, a naturally aspirated flat-six. We know GT3 RSs have a habit of winning eCoty, but is this latest model good enough to follow suit in this company?
Read our original 911 GT3 RS review here and watch the video here.
Lamborghini Aventador LP750-4 SV
Arguably the best current Lamborghini. It takes time to confidently approach the SV's limits of grip, traction and acceleration, but there's a level of feel and adjustability in its chassis absent from its Superveloce forebears. Consider also the fact that it will lap the Nürburgring within a few seconds of a Porsche 918 Spyder and its eCoty incite was never in doubt.
Read our original Aventador SV review here and watch the video here.
Come back tomorrow to find the next evo Car of the Year 2015 contender.