When you think of quality suspension and dampers, a few brands crop up. But, I'd hazard a guess that one of the initial names you thought of, if not the first, would be Bilstein. The name is almost a synonym for racier dampers and putting some "Billies" on your car immediately marks you out as a keen driver.
Over the years many members of the evo team have fitted Bilstein dampers to their own cars, myself included. But not content with some off-the-rack items on my BMW 2002 (read more about our own cars in the Fast Fleet section of evo Magazine) I took a visit to Bilstein's UK headquarters to get something a little more bespoke.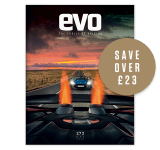 Subscribe to evo magazine
Subscribe today to have every issue of evo delivered straight to you. You'll SAVE 39% on the shop price, and get evo for its original cover price for a whole year!
First though, a little bit of history. Bilstein's reputation and its signature yellow dampers have gained prominence in a relatively short amount of time, as the company has only been involved with suspension for a short proportion of its history. Bilstein is now over 140 years old, yet it wasn't until 84 years into its existence that one of its shocks first appeared on a car.
The company was started by August Bilstein in 1873 and initially produced window fittings before, in 1927, under the supervision of Hans Bilstein (August's son) it entered the automotive world. Bilstein supplied the first chrome-plated bumper to be fitted to a production car before it then started to make jacks.
In the 1950s Bilstein encroached onto the territory of shock absorbers when engineers started developing the idea of a moto-tube gas-pressurised damper and, in 1957, Mercedes-Benz started using these new shocks on its road cars. Since then, the company's signature damper has also been standard fitment on cars made by Aston Martin, Audi, BMW, Bugatti, Jaguar, Lotus, Porsche, Subaru, Volkswagen and many more.
Mercedes was also influential in introducing the German damper company to motorsport, when it entered a 220SE into the 1960 Monte Carlo rally fitted with a set of Bilstein shocks – the car won the rally and then went on to win that year's championship. This success quickly established Bilstein as the go-to shock supplier for rally teams and its dampers found their way onto most of the Group B cars in the 80s, including the Peugeot 205 T16, Metro 6R4, Ford RS200 and Audi Sport Quattro.
> Find out which historic cars Audi will be displaying at events this year
Shortly after its first rally win, Bilstein started to work its magic on circuit cars too. In 1962 Dan Gurney won the Rouen-Les-Essarts Grand Prix driving a Porsche 804; it was the first time Porsche and Bilstein had won a Formula 1 race individually. While that victory remains Porsche's only Grand Prix success, it certainly wasn't Bilstein's; there were times when almost every car on the grid had a set of Bilsteins.
Such high profile motorsport success meant that people wanted Bilstein dampers on their road cars, whether they were originally supplied with them or not. The company obliged, and Bilstein now offers a huge array of dampers and coilover kits for an equally huge number of cars. Its involvement with OE manufacturers, including the development process, means its aftermarket equipment benefits from a deep understanding and knowledge of the car they are destined for.
Bilstein is a German company, setting up shop in Westfalia and still producing its suspension there to this day. But the UK's love for aftermarket modifications, and a healthy race and rally industry too, means that it's worth Bilstein having a significant presence here.
Its UK outfit is mostly made up of a huge distribution warehouse with tall shelves that stretch to the roof – it's like a vast archive library but for people who obsess over bump and rebound frequencies. The racks carry everything from replacement dampers for new cars to upgraded shocks for classic cars.
Bilstein's UK operation isn't just a hub though, on the same site is a workshop manned by damper gurus who work with it UK clients to create one-off or short-run dampers. Sports car manufacturers come to the Leicestershire-based centre to get dampers made to their exact dimensions to fit their cars, as well as they specific characteristics they want. 
Race and rally teams also bring dampers that need either restoring back to rude health or re-valving to suit their needs. And then, pernickety folk like me who desperately want Bilstein dampers or coilovers on their cars – even when the company doesn't ordinarily make them – bring in their crusty old units to be revitalised into some gleaming yellow tubes capable of expertly controlling over a ton of speeding metal.
It turns out the parts needed to convert my BMW front struts into height adjustable coilovers were in Germany, so my suspension parts were shipped out to the factory to be worked on.
But almost anything is possible at the Leicester workshop, and plenty of other tired looking suspension components were being given a new lease of life and a lick of yellow paint. As well as lathes and other numerous machining tools they are storerooms – ones far smaller than the big warehouse, but stuffed with an even wider selection of items – there are draws full of seals, adjustment rods, shims, valves and pistons; everything you might need to build any damper of any size to any real specification. 
Each damper that the workshop builds is then tested on a dyno, a machine that operates it at range of different speeds and takes the new shock through the full range of its movement. The forces needed to operate the dampers are then recorded and compared to a reference figures, if they aren't within tolerance they are then rebuilt and re-tested.
It seems strange for such a large and high profile company to be able to provide such niche and one-off products. To pander to the whim and fancy of every racer and wannabe racer, for a cost of course, rather than fob the off with one of there off the shelf dampers – of which it has already put a massive amount of time into developing – is exceptional. Bilstein's reputation isn't based on dampers that people think are merely ok; they have to be perfect.