No activity is more likely to have the evo office grinding to a halt than scanning auction lists, and there's some special metal up for sale at the Classic Car Auctions September Sale taking place in Warwickshire on Saturday.
From quaint classics to high-performance 1990s sports cars there's something for virtually everyone. And, since it's impossible for just one of us to choose which cars should reside in our own run-down of the lot list, the task has fallen to the whole office. These are our picks from the upcoming sale.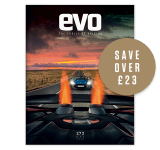 Subscribe to evo magazine
Subscribe today to have every issue of evo delivered straight to you. You'll SAVE 39% on the shop price, and get evo for its original cover price for a whole year!
> Most expensive cars ever sold at auction
Adam Towler, deputy editor - 1990 Lancia Delta Integrale 16v
Although there're all sorts of potential attractions, some doubtless ruinous, at the moment I'm a little bit obsessed with Lancia Delta Integrales, particularly 16vs, so the choice of two here has my theoretical money. Despite what the ads may claim, neither are standard: both suffer from being 'evolusionised', the black car with its wheels, the white car with side skirts and rear wing. I imagine both could be returned to respectability fairly easy. As they're from Japan and Italy respectively, rot shouldn't be an issue, but given the motorsport relevance of a white one, that would probably be my choice. 
James Disdale, road test editor - 1990 Lotus Elan
I'm expecting some abuse for this, but I reckon the M100 Lotus Elan is something of a hidden gem. Launched in 1989, it was the most expensively engineered car Lotus had ever produced, plus it was its first – and probably last – to feature front-wheel drive.
Developed with a typically Lotus focus on handling, the Elan redefined what was possible for a front-driver, and point-to-point it would leave vastly more powerful rivals trailing in its wake. This 165bhp turbocharged SE looks to be in decent nick and comes with stacks of history. Better still, there's no reserve, which means you could bag a bargain.
Antony Ingram, staff writer - 1978 Isuzu 117 Coupe
Not a conventional choice I grant you, but when the little Japanese coupe – designed by Giorgetto Giugiaro – looks arguably even prettier than the 1970 Fiat 124 Coupe also for sale with CCA, it's a difficult one to resist. The seller apparently bought and used it in Japan before importing it to the UK, which scores some cool points and maintains the comprehensive Japanese history. They're exceedingly rare but with a £5k-£7k reserve, haven't yet reached the monetary heights of some of Japan's other contemporary icons. If it's as delicate to drive as it looks, it'll be a fantastic way into a true Japanese classic.
Will Beaumont, staff writer - 1999 Holden GTS
If subtlety and class are key criteria when buying a car then you will not be interested in this Holden GTS. One of only 19 GTSs to come to the UK, this 1999 car was built by Holden Special Vehicles and has a 5.7-litre V8 that puts out 342bhp. It's mechanically similar to the Vauxhall Monaro that made its way to our shores in higher numbers, except the GTS has two more doors. However, more important than that, more important even than its Australian V8 Supercars-style livery; it has a side exit exhaust. And that's worth the £13,000 to £16,000 estimate alone.
Jordan Katsianis, content editor - 2000 BMW Z3 M Coupe
If there was a car I never thought would appeal to me upon its launch, it would have to be the BMW Z3. The small roadster, not as agile as an MX-5 and technically inferior to a Porsche Boxster, struggled to get a foothold with enthusiasts, even if sales were initially strong. The Z3 M Coupe on the other hand was a brilliant mix of an M3 engine and a tiny (stiffened) chassis. Its bread van styling divided opinion, but added crucial appeal and ability to the Z3 proposition. With age has also come a strong following, making a Z3 M Coupe quite the appealing anti-M3.
Lee Stern, content editor - 2001 Porsche 996 C4
Is there a better way to cut your teeth on a proper, high-performance sports car than a 911? Initially regarded with derision by enthusiasts for breaking with air-cooled tradition, the 996, in Carrera 4 guise, is a consummate all-rounder. This facelifted 996's 3.6-litre drives through a six-speed manual box, directing power to all corners for maximum wet weather performance. Despite nearing the 100,000 mile mark, the comprehensive service history means few of the six's 315 horses are likely to have escaped and it should be in fine mechanical fettle. The sub-£15k estimate also makes it a cheap gateway into 911 ownership. 
Matthew Hayward, editor classicandperformancecar.com - 1999 Honda Integra Type R
Most people say that the only colour for a DC2 is Championship White. I disagree. The black cars are just that little bit more subtle, especially with the black (as opposed to red) Recaros, and standard Anthracite wheels. UK cars are rare too, especially with sub-100k mileages, so a very original 59,000-mile is a very attractive proposition indeed. Expect some serious interest. CCA reckons it will sell for £6000-£8000. I'd expect it to be closer to (or even in excess of) the top figure, and it's worth every penny...