Richard Attwood's 415k-mile Peugeot 405 Estate sells for £550
The story of the former F1 driver and Le Mans winner and his 415,000-mile estate that just won't die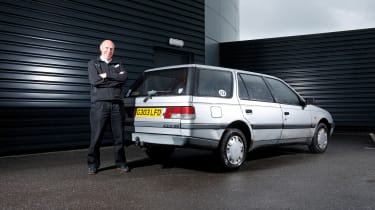 Iconic F1 driver and Le Mans winner Richard Attwood was known for his exploits on track, winning accolades and immense respect during his years behind the wheel. But the great man has another claim to fame, in certain circles his 415,000-mile Peugeot 405 Estate that has become something of an icon in its own right.
The amazing aspect of this car was not only its high mileage, but also the fact that it did those miles on its original engine, gearbox and clutch. Initially bought for his wife to use for an antique business she set up in the late 80's, the 405 became Attwood's trademark, standing out among the more serious performance metal owned by his racing colleagues. The car has just been sold once again, purchased by its new owner for the princely sum of £550 and still going strong (ish).
> Click here for our look ahead at the 2017 Tokyo motor show
According to its previous owner who posted the 405 on ebay, the car has seen better days, suffering from a seized choke and some bodywork that needs attention. Intent on maintaining the originality of the car though, he made no changes to its condition from when he originally bought the car from Attwood.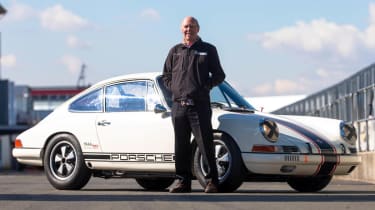 The interior is as Attwood left it too, with an array of baseball caps in the boot and a signed dashboard just to remind you that this is no ordinary 405. We don't know if the new owner intends on making the car road worthy, but what is for sure is that he owns the most well-known and iconic Peugeot estates ever made.
We had the chance to sit down with Richard a few years ago to talk about his Peugeot 405 Estate, adding to the strange mystique of what is in essence a very average car. 
evo meets Richard Attwood and his 405 Estate:
I bought this car in 1989 brand new, and it's the last new car I bought. It was for my wife, who'd just started an antiques business and needed something big. She had it for about 18 months, then decided to leave the trade. If I had sold the Peugeot I'd have suffered a huge loss, so I just carried on running it. And running it. And running it… It's done over 400,000 miles now, and still has its original engine, gearbox and clutch, much to the amazement of my MOT man.
It's a 1.6-litre petrol. We didn't exactly need performance. It's fast enough for me – my wife would call me one of the slowest drivers on the road! Working as a Porsche driving consultant I was required to get an Advanced Driving Instructor licence, and one of those makes you feel a bit more responsible – there's a lot of things I used to do on the road that I now don't. The Peugeot could probably do 100mph, but I've never tried it. It's basically an under-stressed car, which is probably why it's lasted so long.
I bought it as a basic car. The only extra was metallic paint, and I'm glad I went with that – it doesn't show the dirt and I can go months without cleaning it. The worst feature is its lack of power steering. It's so heavy during parking and you can't dry steer it. When you think of all the little cars now that have power steering fitted as standard, this is quite a big car not to have it. 
I've done all the work on it myself; I've never had it serviced. I know the car so well I can almost forecast what's going to go wrong. It had never, ever let me down until Christmas last year, when the distributor went. It nearly had that problem after 348,000 miles, when I preempted it and replaced what was its original distributor. So its second one only lasted another 50,000 miles before it broke! Peugeot don't have these bits any more, and we had to search hard – there was one in London and one in Turkey, and you can guess which one we went for. It means the next time it breaks it'll be the end of the car.
Am I attached to it? I am and I'm not. A newer car would be nicer to drive, but it's just an interesting project to see how long it'll last. When it got to 200,000 miles I thought, "Well that's pretty good." Then for some reason or other it got to 300,000… I hadn't planned to keep it and do this stupid mileage, it's just turned out that way. 
Everyone knows me and my car. Apparently people see us on the motorway and put pictures up on Facebook. I'm not in the electronic age so I don't get to see them! There's been plenty of Mickey-taking by other racers, because many of them drive far racier stuff. They probably think it's staid, but as the miles keep going on I've got something to hit back at them with.
I have another car, a 1990s Audi A8 4.2. I was doing work with Audi when it launched and I loved it, and promised myself I'd own one. A few years ago my son got me a computer, opened up the internet and said, "Let's find you an A8." You know what sons are like – he wanted me to have a decent car and not this heap of crap! 
I swap between the two cars, using the A8 in the summer, but when there's salt on the roads and bad weather I use the 405. When it finally dies the Audi will become my main car. If the Peugeot can so easily do 20 years I hope the Audi will do 40 – I've been telling everybody I've bought my last car."