The Three Peaks Challenge and a Corvette Z06 – evo Archive
When evo and a Le Mans winner tackled another type of 24 Hours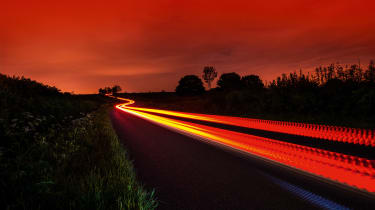 'All I'd been told,' recalls Aston Parrott, evo's resident photographer and hairdryer enthusiast, 'was that you and some racing driver were going to meet me in the Pen-y-Pass car park at the bottom of Snowdon, with a Corvette. To be fair, that was more of a brief than I got most of the time, so I wasn't too worried. It was a lovely sunny day in north Wales too, but you were late.'
I remind him at this point that me and 'some racing driver' – otherwise known as Oliver Gavin, five-time winner at Le Mans – were caught up behind an accident about five miles away. We were also two peaks into the Three Peaks Challenge, where you have to climb the highest peaks in each of Scotland, England and Wales within 24 hours.
'Well, whatever,' says Aston, waving a hand dismissively. 'You were late. As usual. And then you turned up, threw me the key to this bright yellow Corvette Z06 and ran off towards the top of the mountain! I'd only been in the job for about a year and I was still pretty young [he's still young now] so I was just thinking, "Bloody hell! I've got a Corvette. What am I going to do with this?" It was crammed full of your stuff so I couldn't see out of the back and there were empty protein shake bottles and chocolate bar wrappers floating around in the passenger footwell. It was a tip.
> Chevrolet C8 Corvette Z06 revealed – has the Porsche 911 GT3 met its match?
'Still, I drove around feeling pretty good about life for the next hour or so. I took some statics, admired the head-up display and even tried the second half of the travel on the throttle pedal. Then it started to rain. The idea of 650bhp and silly rubber didn't appeal much, so to save me soiling myself I went back to the car park. The cloud came in, the rain got worse and I thought you probably should have been back by now. I tried calling you but obviously there wasn't any signal, so I was just sitting in the Corvette in the rain, waiting. Then this rescue helicopter buzzes overhead. Well, the mind starts to assume the worst, naturally.
'I had just worked out what I was going to write on the letter of condolence to your mother when you and Ollie, soaking wet and shivering, came running out of the mist. I scrambled for the camera and managed to get a couple of photos, I think. I've no idea why it had taken you so long.'
I remind him we were exactly the amount of time we said we would be, and we had also stopped to help the elderly gent whom the helicopter was for (he made a full recovery).
'If you say so,' says Aston. 'Anyway, Ollie had to get a flight, so he pinched my long-term Nissan Juke, which he was rightly terrified of, and you and I did some more photos. There wasn't the budget to stay an extra night in Wales, so we drove back to the office and then did the long exposure night shots at about 1am. A road in Northamptonshire deputised for one of our nation's great national parks. I'm not sure you were at your sharpest…'
I remind Aston that I had, by this juncture, been nowhere near a bed for 44 hours.
'Well, it was your idea,' he points out. 'And we probably could have got away without doing those shots anyway, because they only used one of them in the final feature [issue 227] and it was very small.'
Hence why we're publishing this unused one here, now.