It's amazing how simple driving a Formula 1 car is from the safety of your armchair. Reclining in comfort, you groan constantly at the qualifying pace your granny could match, the overtaking opportunities an idiot could grab with both hands, fluffed starts, first-corner shunts, cocked-up pit stops, and Felipe Massa. Such apparent incompetence is enough to put a man off his beer and nibbles. Things are a bit different when you're plucked from your living room and thrust wide-eyed into the cockpit. And not the cockpit of just any car either – a bright red one with 'Schumacher' on the side and a Prancing Horse on the nose cone. Students of the Scuderia will have already spotted that this is a Ferrari F300. The first Ferrari F1 car conceived by Ross Brawn and Rory Byrne, it was built to suit the new 'narrow-track' regulations for the 1998 season. A clean-sheet design, it featured an all-new 2997cc 80-degree V10 engine – the Tipo 47 – which developed a reputed 800bhp at a little over 17,000rpm. That equates to a faintly mind-bending 267bhp/litre or, when installed in a car weighing just 600kg, a power-to-weight ratio of around 1300bhp/ton – three times that of a Ferrari 458, a car not exactly lacking in go. This utterly surreal opportunity has come courtesy of the car's present owner of five years, Pierangelo Masselli, who has decided to place F300/183 in RM Auctions' prestigious London sale in Battersea on October 31. Built in the days of unlimited testing and spare cars (known as T-cars) at each Grand Prix, chassis 183 was used as a T-car for Michael Schumacher and Eddie Irvine. I'd expected Masselli to reel off the car's provenance in minute detail, but when I quiz him the answer he gives is far more impressive: 'The history of this car doesn't really interest me. It's not for looking at, it's for driving. That's why I bought it.'  The deal for this day of days has been very simple. Fly to Bologna and get ourselves to the Autodromo Modena for 8.30 on Wednesday morning, where we'll meet Masselli, get shown around his F1 car and, if he likes us, be given the chance to fulfil a life's ambition and drive one of the Scuderia's thoroughbreds. It's an opportunity fraught with potential pitfalls, but one that promises an experience so vivid, intense and unique that it's hard to think of anything that could ever top it.  And so it is with considerable trepidation and the light-headed inebriation of a bloke who simply can't believe his luck that I step from our crappy Lancia Y (is that a model name or a rhetorical question?) hire car and head towards the only open garage door in the pitlane. Having witnessed the pomp and pantomime of Ferrari's own Corse Clienti operation, I was expecting Masselli's crew to comprise rather more than a white 7.5-ton lorry, a small Fiat van and three blokes wearing jeans. Watching them tend to the F300, pre-warming its vital fluids and pumping high-octane gasoline into its fuel tank, is quite possibly the coolest thing I've ever seen. They really could be any group of blokes readying a regular car for a few laps at a trackday. The unmistakable bark of a Ferrari 458 road car heralds Masselli's arrival. Much to my relief, not only is he a very nice guy, he's also of average height and build, which means I have a fighting chance of fitting into his car. According to him, these late-'90s cars were shrink-wrapped around their drivers even more so than today's micro-packaged machines. As I've been having nightmarish visions of getting so close to fulfilling every F1 fan's dream I can literally reach out and touch it, only to find I can't squeeze myself into the car, this is not good news. Oh well, best breathe in and hope for the best. There's something strange about walking up to this breathtakingly beautiful sliver of scarlet, swinging one leg then the other over the high-sided cockpit, placing your hands either side and gradually lowering yourself in. Using your arms to support your weight, you pick both feet up and thread them into the dark, cylindrical depths of the tub. As your legs disappear, you lower your hips towards the moulded seat – shaped for the owner, not me – before your shoulders drop below the top of the cockpit and you settle down into the most focused and functional driving environment this side of a Eurofighter. Or at least that's the theory. In my case things start to feel a bit tight when my feet come to rest against the pedals, then go from bad to worse as my shoulders wedge against either side of the bodywork. This is ridiculous. While I'm the first to admit I'm not exactly sporting a gym-honed body, the fact my stumpy legs are too long and my shoulders too broad highlights the fact that F1 drivers are 7/8th-scale men. To my considerable relief and after much squeezing and wriggling, I finally manage to get my torso into the car. Once in there's barely a Rizla paper's clearance between my thighs and the bottom of the steering wheel. To apply more than a quarter-turn of lock I've got to take the bottom hand off the wheel and steer from the top. As the belts are pulled down it suddenly feels claustrophobic in here, and my heart begins to thump as a mixture of anticipation and apprehension starts to tickle my adrenal gland into life. The car is lowered off the jacks and pushed out into the harsh sunlight beating down on the pitlane. I've already been taken through the steering wheel's major controls – gearshift and clutch paddles, neutral, fuel and ignition buttons, displays for water temperature and gears. I've also been told by Masselli (with a smile) that 'suicide would be the less painful option' if I break the engine or crash. An umbilical power lead is connected in the cockpit somewhere down by my right hip, and as the starter (akin to a long cattle prod) is inserted at the rear of the F300, I catch myself making a plonker of myself by doing that twisty signal with my index finger like James Garner in Grand Prix. When the engine fires, all sorts of alarm bells go off in my head. With a crash helmet on, the noise isn't as piercing as it was when stood by the car in the garage as it warmed up, but strapped tight into the carbon tub the vibrations drill through my back, setting my internal organs fizzing to the fast idle of this mighty V10. It feels unnatural, animalistic, intimidating and absolutely bloody marvellous. There's no time to muck about once the motor's hollering, so I'm told to pull back on the left-hand clutch paddle, then click the right-hand gearshift paddle to select first gear. Like a bomb disposal expert withdrawing the fuse from some unstable piece of high-explosive ordnance, I slowly begin to release the clutch with my left fingers. The crew chief makes pinching motions with his thumb and forefinger, urging me to feed in the clutch and gently squeeze the throttle. Then, as the clutch begins to find some purchase, my brain goes into neutral and I stall it. Balls. And so the whole process begins again. And then I stall it again. Patience is wearing as thin as the F300's tortured clutch plates as the crew connect the battery for a third time, stuff the starter into the back of the car again (by now I'm sensing they'd rather stuff it elsewhere), then watch with pained expressions as I finally leave the pitlane, like an octogenarian spinster leaving church. It's not quite the fury of tyre smoke and testosterone I'd imagined, but what the hell – I'm driving a Ferrari F1 car! Masselli has advised me to complete three laps before returning to the pits. If all goes well and the team are happy, I'll be sent back out for another three laps. Unsurprisingly the first stint passes in a blur. The noise, the immediacy, the alien sensations, the stress and the conflicting emotions of feeling utterly out of my depth combined with the compulsive urge to squeeze the firm, long-travel throttle pedal a bit further for a bit longer are completely overwhelming. As I'd feared, the 1.25-mile circuit is way too tight and twisty to feel even a hint of downforce, but now I'm here, strapped in at the epicentre of the F1 experience, that's something of a relief. It means that rather than taking huge leaps of faith with someone else's precious car, I can instead concentrate on enjoying the moment and try to absorb as much as I can. It's not until I return to the pitlane that I realise I've not even managed to get the shift lights lit. That's hilarious and humbling in equal measure, for part-throttle or not, I can honestly say I've never experienced such ferocious acceleration. I'm absolutely buzzing, high as a kite on the greatest stimulant in the world and craving another hit. Fortunately for my new-found addiction, Masselli is still happy, and so after letting the engine cool a little (the low-speed corners don't get enough air flowing through the radiators) I'm sent out for three final laps. It's a wonderful, terrible feeling heading out for this last stint. I know there's so much more to learn, yet time, unfamiliarity and a fear of firing it into the barriers dictate that I'll only ever scratch the surface. Just how deep I can make that scratch depends on how big a risk I'm prepared to take. That's the blunt reality of tests like this, which in many ways feel like playing with a sharp knife. You know you need to treat it with the utmost respect, but a part of you has to know just how sharp it is, and so, inevitably, you run your fingertip along the blade… As is common practice when letting a novice loose in an F1 car, the F300 is fitted with wets in the hope I'll be able to feel what's going on and get some heat into the rubber. On a warm, dry track it's a bit like asking Usain Bolt to sprint in carpet slippers, but I'm grateful for all the help I can get. There's really not much feel to tell you what the car's doing, but I've driven enough cars with a bit of downforce to know they all feel numb in low-speed corners. The steering is power-assisted, though feels completely natural, and only through the tightest turns do I need to take my hand from the bottom of the wheel. Despite the unnaturally slow corners, the F300's immediacy is sensational. There's such finely engineered precision to every control that it feels like a scientific instrument, which in a way, it is. Quite how blokes like Kamui Kobayashi lob these things around like they're Caterham Sevens when you've got so much performance and so little steering lock to play with, I simply don't know.  Having quickly conceded today is not the day to go in search of 4G cornering, I resolve to get those shift lights burning. With no traction control I'm not up for flooring it in second gear, but once onto the start-finish straight and safely into third I push my right foot down hard as far as it'll go and keep it there through third, fourth, fifth and sixth. The difference between seven-tenths throttle and ten-tenths is immense and shocking – the top-end ferocity and the crazy, headlong rate at which the F300 piles on speed is truly bewildering. The acceleration is so explosive that my brain is left behind somewhere between third and fourth gears, which is a bit of a problem when the car is flat in sixth and fast approaching a second-gear right-hander. For a split-second my right foot makes an effort to hit the left-hand pedal, then my overloaded brain sends a message to my left foot, which then presses hard against what it thinks is the brake, but is in fact the solid footrest. Bugger. Fortunately, I've initiated the braking process so well within the limits of the F300 that I have time to wave both feet around the footwell, panic, 'brake' with the footrest, then really panic before finally pushing my size nine on the correct pedal. Humiliatingly, it's the closest I ever get to braking smoothly to the apex, which says a lot for the brain-scrambling stopping power of a modern F1 car (OK, a 14-year-old F1 car) and also explains why today's drivers either pull off an audacious overtaking move or pile amateurishly into the sidepod of their adversary. The margins are so small that there simply isn't any middle ground to play with. With the luxury of proper time in the car and a more expansive circuit to let it hit its stride, I'm deluded enough to think I could begin to get my head around the acceleration and braking, and even summon the spuds to lean on a little of downforce's invisible magic. What I can't get my head around, and what separates F1 drivers from the rest of us, is being so on top of your game that wringing the neck of an F1 car becomes second nature.  To race in the pissing rain around the streets of Monaco or the swoops of Spa, while talking to your engineer about the car's handling balance or your pit stop strategy beggars belief. I've loved every second of my brief time as an F1 driver, but on the basis of what I've experienced I think I'll stick to my armchair.  Felipe, I am slower than you.
See Dickie driving the Ferrari F1 car below...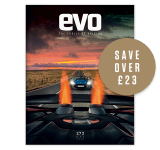 Subscribe to evo magazine
Subscribe today to have every issue of evo delivered straight to you. You'll SAVE 39% on the shop price, and get evo for its original cover price for a whole year!