Fiat 500 v Renault Twingo
We drive Fiat's perfectly formed 500 and Renault's dinky new Twingo. Which puts the biggest grin on your face?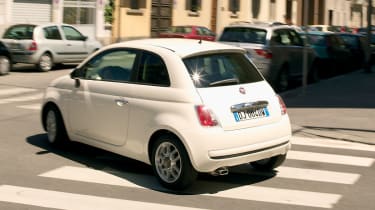 This, you would think, is not the magazine for cuddly cars. And Renault's smiley-face, denied-to-Britain Twingo is definitely one of those, as is Italy's national motoring monument, the tiny Fiat 500. But the Twingo has evolved and so, rather more radically, has the 500. The results of the evolutionary mutations are before you now.
First to appear (by a week) was the Renault, reborn with new attitude, new assertiveness, new purpose. Then, on July 4, exactly 50 years from the launch of the last one, came the Fiat 500, as Turin surrendered itself to the new car's lift-off.
There were fireworks along the River Po, concerts, partying in the streets; the Italian prime minister and several cabinet colleagues were there, along with dozens of celebs. A thousand old-model 500s descended on Turin from all over Europe. Italy, it seemed, had a brand new national automotive symbol. BMW didn't do any of that in Oxford when the Mini was (re)launched back in 2001, and there was no associated partying in the nearby Blackbird Leys estate, cradle of the joy-riding tendency. Funny, that.
So, two new small cars, proper superminis now that the cars we're meant to think of as superminis have grown to the size of a mid-'90s family hatchback and weigh rather more. Both the Twingo and the 500 weigh under a ton (as well they should), and both can be had with 100PS (99bhp) engines. That's the most they offer for the moment, but hotter versions are not far away. For the Fiat, that means an Abarth with a 135bhp, 1.4-litre turbo motor, for the Twingo a Renaultsport 160 (possibly) with, again, a turbocharger plus the fat wheelarches of the Geneva 'concept' car.