Fiat Panda 100HP
Readers have been contacting us in praise of the Panda 100HP. Richard Meaden is their Fiat-driving champion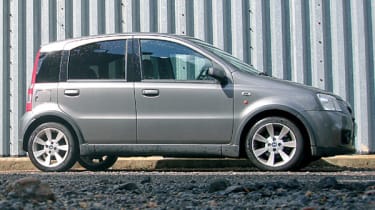 After publicly defending the Panda in the face of a recent Clarkson tirade, it's been heartening to see so many of you rise to the little Fiat's defence. It's also been surprising to discover just how many evo readers are actually Panda 100HP owners.
Whether you purchased it as your only mode of transport, a fun weekday commuter or 'for the missus' (as a number of you proclaimed, somewhat unconvincingly), the upshot from all your emails is that we all appear to concur on two things: that, on a bumpy road, the ride is akin to a medieval torture device, yet the 100HP still delivers honest, uncomplicated fun.
Individuality is also important to you, as is the Fiat's stylish appearance, build quality and abundance of features, such as air-con and the Bluetooth phone connection. Coupled with the 100HP's accessible pricing (£8K if you haggle hard), this Panda has firmly established itself as a credible and desirable addition to our world.
Five months in and I'm still having a great time with ours, though one thing that never fails to wind me up is the parcel shelf – or perhaps I should say parcel flap. It doesn't have the usual strings attaching it to the tailgate, so whenever you want to deposit something bulky in the boot you have to lift the flap manually. Luggage safely deposited in the tall, narrow boot, you drop the tailgate and jump into the driver's seat, only to glance in the rear-view mirror to see the ruddy flap, which now completely obscures your view through the rear window. The solution (apart from the uniquely male habit of swearing at an inanimate object) is to carry an umbrella in the rear passenger footwell. One well-aimed prod and the flap thuds back into position nicely. Genius.
Running Costs
| | |
| --- | --- |
| Date acquired | December 2006 |
| Total mileage | 5,738 |
| Costs this month | £0 |
| Mileage this month | 1,484 |
| MPG this month | 38.7mpg |