Ford unveils 1-litre engine with 123bhp
Ford has unveiled a new small capacity turbocharged petrol engine with exceptional CO2 and mpg figures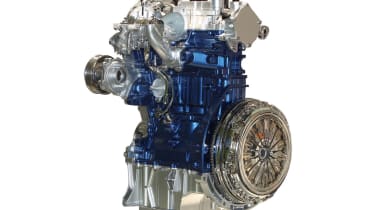 The trend for downsizing continues with Ford unveiling its new 1-litre 'EcoBoost' petrol engine, set to become the company's CO2-cutting mid-range powerplant.
Despite its diminuitive capacity, the three-cylinder turbocharged motor generates either 98bhp or 123bhp and will be fitted to the lower reaches of the range, including the Focus, the C-Max and the forthcoming B-Max. Although unconfirmed, you can also expect to see it in the Fiesta and possibly even the unloved Ka.
Developed in the UK, and set to be built in Germany and Romania, Ford reckons it will be building up to 1.3 million of the engines each year. When fitted to a Ford Focus the 98bhp version will deliver 'best in class' emissions of just 109g/km on the standard economy test. The more powerful 123bhp version will emit just 114g/km.
Ultra-small petrol engines – with fewer than four cylinders – are going to become an increasing part of the European car market in coming years, especially as tighter emissions standards increase the cost of smaller diesel engines. Fiat has already introduced its 0.8-litre two-cylinder 'TwinAir' and other manufacturers are known to be working on similar technology to reduce CO2 emissions.
The interesting question will be seeing how close the relatively heavy Focus can get to its impressive-sounding economy numbers when being driven in the real world.