Ford 'wants to build' road-going FF racer
Ford has told evo that it is seriously considering producing a limited number of the road-going Formula Ford racer that was recently used to break Nurburgring records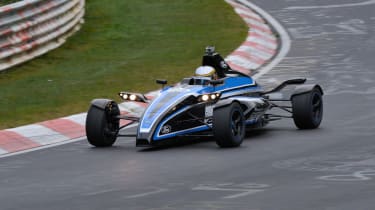 Ford has revealed that it is keen to produce and sell a limited number of the road-going Formula Ford racer that was recently used to break various Nurburgring lap records.
The Formula Ford car was fitted with Ford's new 1-litre Ecoboost engine, tuned to produce 202bhp and was fitted with wheel covers, lights, a horn and a speedometer to make it road legal (in Britain at least.) Last week it put in a 7 min 22 sec lap of the Nordschleife with British racer Nick Tandy at the wheel, making it the 11th fastest 'road legal' time ever recorded there, better than the Lamborghini Aventador or Pagani Zonda.
But what many put down as nothing more than a highly successful publicity stunt could spawn a limited run of similarly rapid customer cars. At the 'Go Further' event in Amsterdam last week a senior Ford executive confirmed that the company is keen to produce a limited number of SVA-approved road-going Formula Fords, and reckons that they could be put on the road wearing a pricetag of 'well under £100,000.'
Or, as the same executive put it, 'priced to look like a bit of a bargain next to the BAC Mono.'
Certainly a fascinating idea – we'll bring you more news when we get it.