Forza 6 behind the scenes video accidentally leaks Ford GT race car?
Vehicle artwork shows long tail Ford GT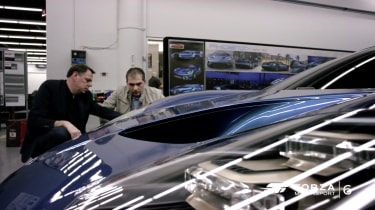 It's not easy to spot, but a Forza 6 behind the scenes video may have just accidentally leaked the long-tail Ford GT race car.
The just announced 2016 Ford GT is the cover art vehicle for the game and as such, Turn 10 Studios clearly wanted to show what work had been put into digitally recreating it for Forza.
>Read: Ford GT - everything you need to know
The below video shows just how much work is involved in creating a car for Forza, but also may offer a brief glimpse at what Ford plans to do with the GT for racing.
Images on the wall in the studios show a GT with completely revised air intakes, a much bigger rear wing and a central fin. As we already know from the prototype announced at Detroit, it's an incredible looking thing, but it definitely doesn't have that kind of aero.