GGR-tuned Ford Fiesta ST
Graham Goode Racing works some tuner magic on the Ford Fiesta ST, boosting power output to 240bhp. Details here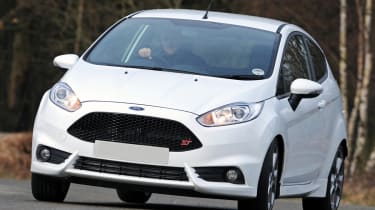 The Ford Fiesta ST is a bundle of fun with the standard 180bhp, but tuning specialist Graham Goode Racing (GGR) can now bump that to 240bhp for those wishing for a little more zip.
The GGR ST240 package pairs an ECU remap from Superchips with a series of induction modifications to enhance the 1.6-litre Ecoboost's breathing.
GGR swaps out the standard airbox – actually shared among all Fiestas regardless of output – for a High-Flow Direct Air Induction System of the company's own design. A large cone K&N air filter sits inside a custom-made aluminium trumpet assembly, which hooks up to the car's Mass Air Flow sensor using a CNC-machined mounting.
The new setup draws air from the same area at the front of the car, but a new ABS plastic molding helps channel air into the less restrictive induction setup for greater power potential.
Superchips' remapped ECU makes best use of the car's bigger lungs, boosting the standard power output to 240bhp at around 6650rpm and the standard 214lb.ft torque peak to 253lb.ft at little over 2400rpm. The upgrade is installed via the familiar Superchips Bluefin hand-held device.
GGR claims 'staggering' performance and throttle response (the standard car is already brisk at 6.9 seconds to 62mph) but no lack of user-friendliness or refinement
It does little to harm the Fiesta ST's affordability either, with a VAT-inclusive price of £728.98 including free installation. Interested buyers can buy the kit directly from Graham Goode Racing in Leicester and from Superchips' HQ in Buckingham.