Ford Mustang celebrates 50th birthday at Silverstone
The Silverstone Classic is to celebrate the legendary Ford Mustang's 50th Birthday, including a Homage to Bullitt. Details and video here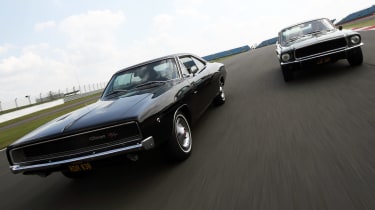 It's been 50 years since the production of one of the world's most famous muscle cars, the Ford Mustang, began back in 1964. Famous for not only being one of the best selling muscle cars of all time, but also becoming the icon of a nation. A selection of Ford Mustangs will be on display throughout July's Silverstone Classic event.
Famous examples from Gone in 60 Seconds and American Gangster will be present; while TV presenter Mike Brewer and his recently restored 1967 Mustang Fastback will join in with the festivities. There will even be an air display from a pair of P51 Mustang fighter-bombers, as well as two full grids of American V8-powered Fords racing around the home of British motorsport.
Perhaps the biggest Ford Mustang shaped star will be a GT Fastback, identical to the one found in the legendary 1968 movie, Bullitt. Accompanied by its arch rival, the baddie's black Dodge Charger, these cars have recently appeared in a homage to the movie set and filmed around the Silverstone circuit.
Keeping the feel of the chase close to the original, the film team has added a touch of Silverstone to this light-hearted homage. The Bullitt chase manages to incorporate iconic details from the 1968 chase scene, such as the green Beetle, with aspects of the Silverstone's surroundings. Watch the video below.
With this recreation, and a large bill of Mustang related events to come, the Silverstone Classic certainly promises to be the perfect for the birthday celebrations of such a legendary icon.